Anthony Westkamper
Black gnats on daisy.
American poet Karl Shapiro begins his poem "The Fly" with the address, "O hideous little bat, the size of snot." No other group of animals is as reviled as flies. Annually, members of the order Diptera account for millions of human deaths through diseases they spread. The ones that pester, infect and disgust us are really only a small percentage of the 160,000 known species, which is only a small fraction of the estimated 1 million species, the majority of which are unobtrusive and unknown to us. Named for having two wings, unlike other winged insects which have four, the order Diptera is the most diverse in lifestyle. There seems to be a fly tailored to feed on anything organic, living or dead.
Anthony Westkamper
Fetid adder's tongue photobombed by a gnat, a moth fly, and a tiny wasp.
The other day, taking photos of fetid adder's tongue flowers (
Scoliopus bigelovii
), I got one shot with three insects in it. Even bugs photobomb us. Drawn by the flower's dank odor, there was a fungus gnat, a moth fly, and a tiny wasp (order Hymenoptera). From the look of it, the wasp may have been trying to prey on the gnat. So much of what goes on at this scale is unknown to us.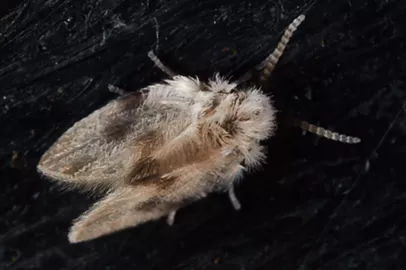 Anthony Westkamper
Moth fly, about 2 or 3 millimeters long.
At 2 to 3 millimeters, moth flies look like tiny moths but are truly flies, also known as drain flies and sewer flies. While harmless, they are considered pests when they infest our homes.
Some fungus gnats are small and vaguely resemble mosquitoes, but feed on — you guessed it — fungus. Others, like the tiny, glistening black Bradysia, emerge from soil in potted plants to become household pests.
Anthony Westkamper
Fungus gnat, about 6 millimeters long.
While researching them I was continually referred to the book
Flies
by Stephan A. Marshall so, despite it's heft (5 pounds 5.5 ounces) and hefty price tag ($88), I ordered a copy. It is a truly great book and a new favorite among my collection of entomological works.