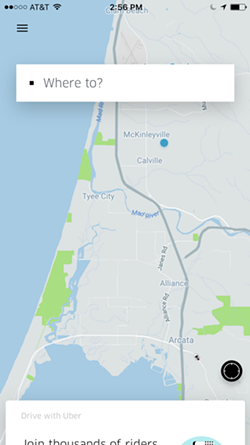 This is what Uber looks like.
There's a new transportation option in town, but it comes with some baggage.
Uber — the online ride sharing service that offers an alternative to taxi cabs — recently made its debut in transportation-starved Humboldt County. But Uber's expansion comes in the midst of what can only be described as a rough six-week stretch for the company.
The
Journal
, having
publicly advocated
for more transportation options as a way to help curb Humboldt County's impaired driving epidemic, was eager to take this new Uber thing for a local spin. For the uninitiated, Uber works like this: Customers download an app to their phone, which then connects them to a fleet of independent contractors driving around looking for fares. And because there's little overhead for the company — drivers use their own cars and pay for their own insurance and gas — rates are generally cheaper than cab companies, which are in scarce supply in Humboldt County anyway. Some are also drawn to Uber because you enter your credit card information directly into the app, which means there's no cash exchange in the car — you simply say thank you (give a tip if you wish) and go on your way.
So on a recent Wednesday, I downloaded the Uber app to give it a spin. I was looking for a ride from the
Journal
's office in Old Town Eureka up to my home in McKinleyville. When I punched in my address, the GPS on my phone told me there was a driver about 11 minutes away. I wasn't quite ready to leave, so I held off. About an hour later, ready to head home, I brought the app up on my phone. No drivers were available. Worried I'd missed my window, I waited. Five minutes passed. Then 10. Then 15. Finally, after about 20 minutes, the app let me know a driver was free and could be at the office in less than 10 minutes. I agreed, packed up my stuff and went outside on the lookout for a red Ford hybrid driven by "Piers."
It pulled up right on time and I hopped in the passenger seat and introduced myself to the driver, a pleasantly upbeat young man by the name of Piers Bachman.
As we headed north, I peppered Bachman with questions. He explained that he loves to drive — like will just hop in the car with nowhere to go and drive around. So about six months or a year ago, he looked into becoming an Uber driver only to find out the company wasn't operating in Humboldt. A couple of weeks ago, he heard that had changed and reached out again.
The process of getting approved to drive for Uber was pretty quick, Bachman said. He passed a background check, showed proof of insurance and then had a Facetime chat with an Uber investigator to make sure everything was up to snuff with his car.
"I did a little video inspection of my car," Bachman said, adding that it included everything from popping the hood so the inspector could check belts and hoses to going under the wheel well to look at tire tread and brake pads. "It was so 2017."
Bachman was cleared to drive. He'd only been on the job a few days when we caught up with him, but said he was enjoying it. He said he'd given about 15 rides, noting that a majority of them were to folks who seemed a bit impaired and were looking to get to or from a bar, and that several riders mentioned a past DUI was their inspiration for Ubering. Bachman said he's enjoying himself, though he wasn't sure Uber was really going to pay the bills — he said he only made about $3 toting someone from Eureka up to the Arcata Plaza. Though Bachman said he doesn't really need Uber as an income stream — he works full time at a local hospital and is about to get his nursing license — he just sees it as a good way to pay for his driving habit and meet some interesting people.
Uber's expansion comes as the company is in the throes of a seemingly unending public relations crisis that has caused many to forgo it in favor of other options. The crisis began in earnest back in January when, in the face of President Trump's executive order attempting to ban travel into the United States from seven majority-Muslim countries, taxi drivers in New York City refused to pick up passengers from Kennedy Airport, prompting Uber not only to flood drivers to the airport but also offer rides at a discount rate.
The move infuriated some consumers, and the
#deleteuber
hashtag began trending on Twitter, prompting more than 200,000 people to purge the app from their phones. But Uber's rough stretch didn't stop there, as it grew to include a
sexual harassment allegation
that tore the mask off what appears to be a vile workplace culture, the
release of a video
showing the company's CEO berating a driver who asked him about compensation rates and, now,
allegations
that the company has engaged in a years-long high-tech effort to deceive regulators.
So yeah, there are probably much more socially conscious transportation alternatives (we're looking at you, Redwood Transit System). That said, if you find yourself drunk at a bar at 2 a.m. without a friend to call, hands down, Uber beats getting behind the wheel.