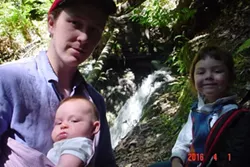 GoFundMe
Elizabeth Palmer, with her two daughters, Lizzie and Victoria.
Update: The CHP confirmed today that the bodies of Elizabeth Palmer and her two young girls have been recovered after their car crashed into the Klamath River over the weekend.
Previously
A diver working alongside the Orleans Volunteer Fire Department this morning found a car in the Klamath River that is believed to contain the remains of Elizabeth Palmer and her two young daughters.
The car slid off of State Route 96 and into the rain-swollen river Sunday evening. Jose Paredes Chavez, the father of the two girls, 4-year-old Lizzie and 15-month-old Victoria, was also in the vehicle, which was swept away as he tried to unbuckle one of his daughters from her carseat, according to a
GoFundMe page
established by Palmer's sister. Chavez then climbed up the 500 foot embankment to find help.
The California Highway Patrol, Humboldt County Sheriff's Office Search and Rescue, Trinity County Search and Rescue, and U.S. Coast Guard searched for the vehicle but were not able to safely continue rescue efforts, according to a press release from the CHP on Tuesday, which said they would continue to search when the weather abated.
Citizens in the small town of Orleans decided to act. A community member who is an experienced diver volunteered to go to the site where they thought the car could be found, a back water eddy near where the vehicle left the bank, leaving marks along the shore. Penny Eckert, a member of the Orleans Volunteer Fire Department Board of Directors, did not name the community member, but said he and a friend with a jet boat were able to put in about a half mile from the site, and that the fire department stood by as shore support.
A rescue diver was also on scene in case something went awry. It took the team less than 40 minutes between leaving the fire department and arriving at the site to find the car. They used cables to secure it to several trees before calling the Humboldt County Sheriff's Office. Eckert could not confirm that the bodies of the family were in the car, although they have been presumed dead since Tuesday morning.
"Our greatest hope is that we are able to give closure to this family that has already suffered so much," said Eckert. "This tragic event has really helped our community focus on how important we are to one another."
The GoFundMe crowdfunding site for the family's funeral expenses has already reached $19,795 of its $20,000 goal, with 323 people donating in one day.