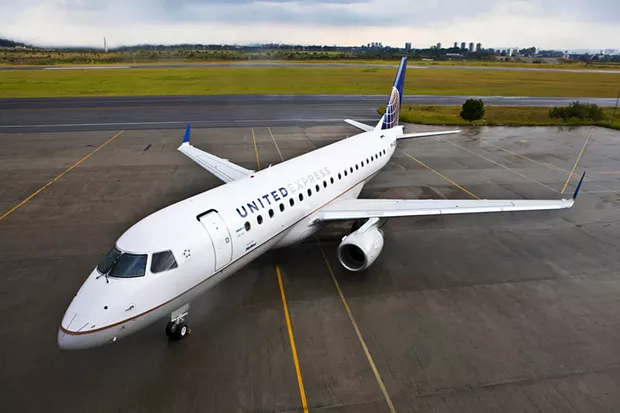 United
The new, bigger jet that will be coming into the Arcata-Eureka airport.
United Airlines is dropping one of its daily flights between Arcata-Eureka and San Francisco but is switching to a larger plane for the route and will still be able to accommodate the same number of daily passengers.
Jonathon Guerin, a senior manager for United Airlines, said the reason for reducing the number of flights is efficiency. The airline is switching to a larger jet for the route, which will be able to transport 400 passengers daily spread across three flights — just four passengers fewer than the route used to be able to accommodate with four flights.
Of course, fewer flights means less flexibility for travelers.
The new schedule got off to a rocky start last week, when Guerin said the first couple flights were delayed due to weather in San Francisco, which brought further delays — and a cancellation — throughout the day.
The seating chart for United's new jet.
Guerin said there are two main planes that will now be coming in and out of the Arcata-Eureka airport. One is the newer E175 aircraft that has 76 seats and their older CRJ plane that has 50. He said people shouldn't be affected too much, though people who already booked future flights may be a rebooked.
"It's about making sure we are flying the right airplane in the right market," Guerin said.
According to United, it started phasing out their older 50-seat jets and started replacing them with the larger jet in 2014. By the end of 2015, United had removed more than 130 50-seat planes from operation.
United reduced its flight number almost exactly a week after PenAir
reduced
its number of flights to Portland.
Meanwhile, the Humboldt County Board of Supervisors on Tuesday will consider entering into a $53,000 contract with Voltaire Aviation, Inc., to conduct an "organizational analysis of the county airport system."
According to the board agenda, the study will include four main components: the best organization and operation structures for the six airports operated by the county; current and future funding sources; evaluating current levels as well as gaps and future needs and a framework on how to maximize operations.
Operation costs of the county's Aviation Division have "exceeded income for the last eight fiscal years," according to the agenda, forcing the county to dip into other funding sources.
The strategic plan is scheduled to be completed by October and the county is also slated to convene an airport stakeholder committee.