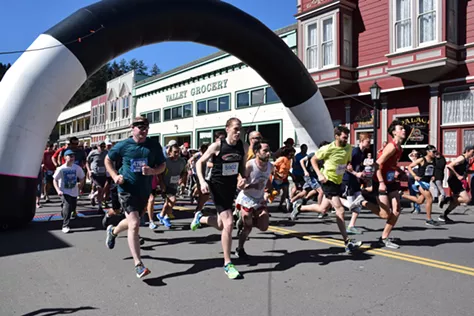 Jennifer Fumiko Cahill
Runners take off on the Foggy Bottom Milk Run on Sunday.
There wasn't much in the way of fog in Ferndale when runners of all ages pounded the Victorian Village's pavement during the Foggy Bottom Milk Run on Sunday. In fact, the 4-mile, 10-mile and 2-mile loops began and ended under blue sky on Main Street, which was lined on both sides with clusters of cheering onlookers.
The day's winners included Michael Guerrero for the men's 4-mile with a time of 23:22 and Lanore Bergenske for the women's 4-mile at 29:16. First over the finish line for the 10-mile were Aaron Campbell at 56:44 and Tami Beal at 1:10:15. August Garcinero finished the 2-mile in 10:27 and Elsa Nolan covered it in 13:05. Complete results will be posted on the Six Rivers Running Club
website
.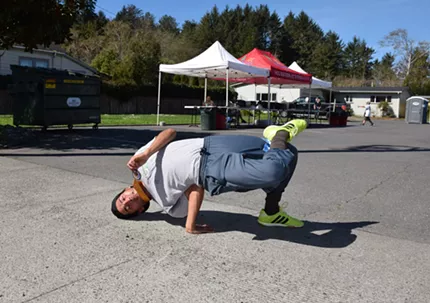 Jennifer Fumiko Cahill
Michael Guerrero, winner of the 4-mile, still had enough energy for this move.
Jennifer Fumiko Cahill
Lanore Bergenske was the first woman of the day to cross the finish line in the 4-mile.
At 2 p.m. the street was packed for the shortest of the day's races, the 2-mile. Instead of lightly bouncing pros with sinewy calves and hi-tech shoes, the starting line was packed with kids of all ages. They jostled and chatted, hooting and clapping for the last runners from the 10-mile. Mike Pigg announced to the crowd that this year's goal was to not have anyone fall down, then led the countdown to the start.
Jennifer Fumiko Cahill
The 2-mile race was a younger crowd overall.
Serious runners wove their way to the front of the pack and the crowd spread out. Once over the finish line, participants big and small (a few in strollers) headed for the tent stalls for orange wedges and cartons of chocolate milk, taking photos with their medals in the sunshine.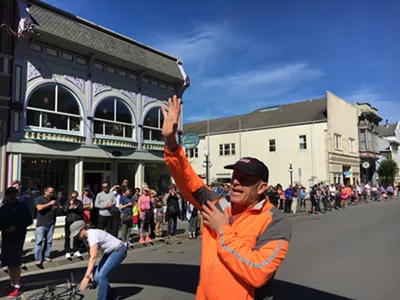 Jennifer Fumiko Cahill
Mike Pigg informs the kids up front that this year's goal is to have nobody fall down at the start.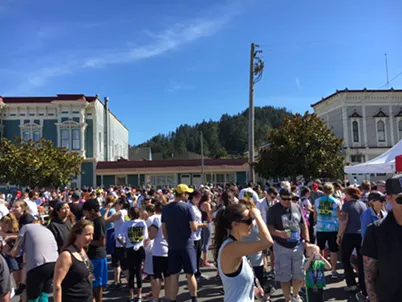 Jennifer Fumiko Cahill
Post-race cool down in the afternoon sun.