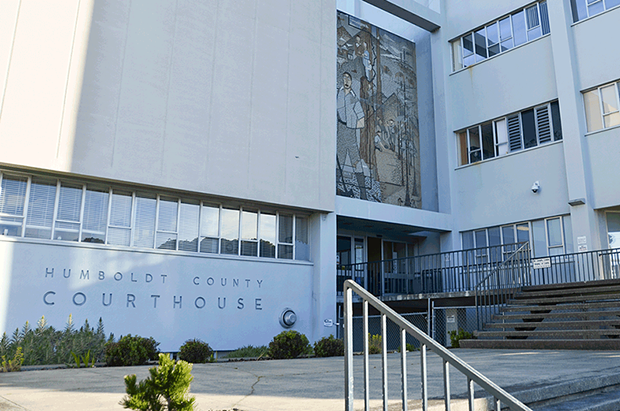 Eureka attorney Patrik Griego is asking a judge to expedite the process of determining whether newly hired Humboldt County Public Defender David Marcus meets minimum state qualifications to hold the post.
Griego, who
filed a lawsuit
earlier this month challenging the county's controversial hiring of Marcus, is asking a Humboldt County Superior Court judge to allow him to serve subpoenas immediately, forgoing the 20-day waiting period usually required in similar cases. In a motion filed with the court Friday, Griego argues it's imperative that the case be resolved quickly, alleging Marcus is already making mistakes that compromise his clients' rights.
"He has appeared in court unprepared and has failed to secure continuances for clients based on a failure to follow court rules," Griego writes in the motion, adding that "attorneys working for Mr. Marcus are gravely concerned about the well-being of the office and the indigent clients it serves."
At issue in the suit is whether Marcus meets the minimum California requirements to be hired as a public defender under Government Code Section 27701, which states a person is not eligible for the position "unless he has been a practicing attorney in all of the courts of the state for at least the year preceding the date of his election or appointment."
In a statement issued March 7, the Humboldt County Board of Supervisors trumpeted Marcus' 20 years of criminal defense experience before leaving Lassen County and states that he "meets all statutory requirements for the position." In court, the county is expected to argue that the statute simply requires that a public defender have been licensed to practice law in California for the year prior to his or her appointment.
Marcus last practiced criminal law during a
controversial tenure
as Lassen County's public defender that ended in 2011. On his resume submitted with the county, Marcus indicated he's been working for the Walnut Creek law firm of Cella, Lange and Cella since 2012, but questions have circled around the extent of his involvement with the firm and whether he actually appeared in a California courtroom during his tenure there.
In the subpoenas Griego hopes to serve, he's seeking a host of documents from both Marcus and Cella, Lange and Cella indicating how much the firm paid Marcus, records of his hours worked there, court appearances, pleadings filed and the type of work he performed over the year preceding his hire. In the motion, Griego indicates he's unwilling to take Marcus' resume at face value, referring to Cella, Lange and Cella as his "alleged employer."
we reported last month
, the Walnut Creek law firm isn't a member of the Contra Costa Bar Association and doesn't have a website or any discernable web presence. Further, numerous
Journal
attempts to get additional information from the firm have been unsuccessful, with messages going unreturned and receptionists being unwilling to answer simple questions, including the type of law the firm specializes in, its size and a confirmation that Marcus worked there.
In the subpoenas, Griego is also asking for any documentation of contacts between Humboldt County and its investigators while vetting Marcus' qualifications, indicating he's looking into the extent of the county's pre-hiring background check.
In support of his motion, Griego filed a declaration from Greg Elvine-Kreis, who, as the supervising attorney in the Humboldt County Conflict Office, works under Marcus and served as the county's interim public defender prior to Marcus' arrival, and was also a finalist for the position.
In the sworn declaration, Elvine-Kreis states that Marcus personally told him that he did not practice law in the courts of California in the year prior to his appointment and had only provided some advice related to property law for a few civil clients of a law firm which was located in California." Further, Elvine-Kreis states that Marcus admitted to him that he has not "followed changes to California criminal practice during the past five years … but claimed he could be a fast learner."
Elvine-Kreis then details two instances since Marcus started on the job Feb. 27 in which he allegedly failed to adequately represent his clients. In the first, Elvine-Kreis alleges that Marcus failed to inform the court of the whereabouts of a client, leading to a warrant being unnecessarily issued for his arrest. In the second, Elvine-Kreis alleges that Marcus "negligently" allowed a client to plead guilty to two misdemeanor violations of probation while felony petitions were still outstanding, depriving the client of the ability to get the best possible outcome and potentially serve multiple sentences concurrently.
"An experienced criminal defense attorney knows the importance of being aware of each of his client's cases and Mr. Marcus' failure to properly negotiate the case falls well below the standard of practice expected of a criminal defense attorney," Elvine-Kreis states in the declaration.
For more information on the case, see past coverage listed below. To see Griego's motion, click
here
. His declaration (which comes with copies of the subpoenas he's looking to serve) can be found
here
. And Elvine-Kreis' declaration is posted
here
.
The issue is scheduled for a hearing March 24 at 8:30 a.m.