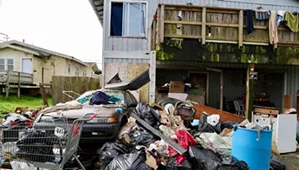 Submitted
Before the cleanup.
Submitted
After a day's work.
What a difference a day, a backhoe and 10 volunteers can make.
A couple of weekends ago, the Rotary Club of Eureka organized a cleanup of a long troublesome property on the corner of Summer and Del Norte streets. The place was a mess. A junk car sat in the driveway, almost consumed by piles of trash and debris, including an old stove, furniture, clothes and even a few hypodermic syringes.
The place has been vacant, save for one tenant is in the process of being evicted and some squatters, and some neighbors have reportedly taken to dumping trash in its front and back yards. The property itself is a foreclosure owned by Nationstar Mortgage, a Texas company with a portfolio of more than $400 billion in properties.
The city of Eureka is currently fining Nationstar $1,000 a day for code violations on the property. The tab is up to almost $100,000, according to Deputy Public Works Director Brian Issa.
"We started fining them as soon as the bank took over (ownership)," Issa said. "It's very difficult to get these big banks to do something and I don't like to spend taxpayer money cleaning up their messes. That being the case, I prefer just to fine them to the hilt … I have to admit, I get a little bit of a warm fuzzy out of it."
Issa said the place on Summer and Del Norte is emblematic of a larger issue, which is that at any given time, there seems to be some property in Eureka owned by a national bank that is left unattended and winds up being a magnet for squatters and illegal dumpers. The city can procure a warrant and send in a crew to clean these properties up, Issa said, but it's an expensive process (around $10,000) that demands a lot of staff time.
And, generally, Issa said that because the properties are vacant and unattended, they don't stay clean for very long. Plus, Issa said he has a philosophical problem with spending taxpayer dollars to clean up a bank's mess. Instead, the city opts for the $1,000 per day fines, which add up quickly.
"If they're not going to take care of problems that they have all the resources in the world to do,
we're going to soak them a little bit," Issa said. "We're going to make it hurt."
Ultimately, Issa said the money collected from these fines — typically more than $100,000 a year — goes to other targeted enforcement actions by the department that it believes will have a more lasting impact.
But Issa said he realizes these properties have an immediate impact on those who live around them, which he said makes the recent Rotary volunteer day so welcome. The volunteers were able to do something that would have been much more difficult — and expensive — for the city to take on.
"Technically, what they did is not legal," Issa said. "Technically, they trespassed. We can't do that. But kudos to them. They took on a neighborhood problem and addressed it."
Rotary Club of Eureka President Matthew Owen said about 10 people turned out for the cleanup event, including his wife and Fourth District Supervisor Virginia Bass. He said the local McDonalds provided breakfast for the volunteers, Pierson Company donated a backhoe and operator for the effort, and Humboldt Recology donated a large Dumpster to haul away the trash.
When people stopped by while the crew was working to ask what they were doing or thank them, Owen said he tried to stress that this is something any neighborhood group can do. He also said he spent some time later that week knocking on doors in the area and encouraging people to take ownership of their neighborhoods and get involved.
He said he was disappointed to drive by a few days later only to see trash again accumulating on the property. For his part, Issa urged anyone with a problem house in their neighborhood to call the building department at 441-4155 or its inspection request line at 441-4043. And he said people shouldn't delay, as these houses can "spiral out of control quickly."
Other folks looking to get involved with cleaning up Eureka can participate in a citywide cleanup from noon to 1:30 p.m. on March 25. The group will be gathering in the McDonalds/Park City parking lot near the Bayshore Mall and dispersing from there. McDonalds will provide free lunch to those who participate.