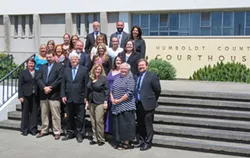 Public Defender staff gathered with now retired Public Defender Kevin Robinson (center).
One of Humboldt County Public Defender David Marcus' employees filed a report with the Eureka Police Department yesterday alleging that he verbally assaulted her in the office after learning that office employees had sent a letter to the Board of Supervisors alleging he is unfit for the position.
EPD Capt. Brian Stephens said officer Abraham Jansen and the employee both agreed that, even if proven, the allegations didn't rise to a criminal level. Nonetheless, Stephens said Jansen took the report at the employee's request to document the incident in the event that Marcus engages in similar conduct in the future.
The employee contacted EPD at about 3:35 p.m. yesterday and reported that the altercation took place at about 9:20 that morning.
"(The reporting party) states (Marcus) cornered her in the reception area of her work and she was unable to leave," a dispatch record of the call states. "(Reporting party) states that he was angry of a letter he received from board of supervisors stating employees reported him as being incompetent."
Marcus did not immediately return a
Journal
voicemail seeking comment for this story but we'll update this post if we hear from him.
Stephens said the employee did not report any physical contact nor that Marcus explicitly said anything to make her feel as though she was not free to leave. Marcus was not contacted as a part of the report, Stephens said, as there was no indication any crime had been committed.
Eight non-attorney staff members of the public defender's office sent the board of supervisors a scathing
letter
Monday alleging that Marcus has "crippled" the office because he is unqualified and lacks the legal knowledge required for the position. About two weeks earlier, all nine of the county's deputy public defenders sent the board a similar
letter
.
A few hours after the alleged verbal altercation with the employee on Tuesday morning, the board met with Marcus in closed session to evaluate his performance and discuss an employee complaint the county had received against him. After the meeting, the board issued a brief statement reaffirming its commitment to Marcus as the county's public defender, a position he's held for about two months.
For more on the letters, Marcus' qualifications for the post and the supervisors' decision to stand by him, see the story we posted yesterday
here
.