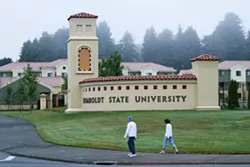 A stabbing in Arcata early this morning left a 19-year-old Humboldt State University student dead.
Details are scant at this point, but the university issued a press release this morning reporting that the stabbing occurred off campus and is being investigated by the Arcata Police Department, which has a suspect in custody but is still actively investigating.
According to APD Chief Tom Chapman, the stabbing occurred at about 3 a.m. during a fist fight that broke out at a house party. Chapman said in a text message to the
Journal
that the suspect is not an HSU student but stressed that detectives are still working to track down and interview witnesses.
The victim's name is being withheld until his or her family can be notified and Chapman said APD isn't releasing the suspect's name until additional witnesses can be interviewed.
The university is providing counseling and support services to grieving students (more info, including phone numbers, in the press release copied below). HSU President Lisa Rossbacher also sent out a campuswide email notifying students, faculty and staff of the killing.
"I have no words to adequately describe the sorrow of this loss," she wrote. "This tragedy is heartbreaking for all of us, and most especially the family and friends of the victim. Our thoughts are with them and we extend our condolences."
The killing is Humboldt County's fourth homicide of 2017. The county tallied a record 22 last year.
From APD:
FOR IMMEDIATE RELEASE
ONE DEAD AFTER FIGHT AT ARCATA HOUSE PARTY
On April 15th, 2017 at approximately 3:00 am, officers from the Arcata Police Department responded to the 1100 Block of Spear Ave on the report of a stabbing.

When officers arrived, they found a male victim bleeding from multiple stab wounds. Officers immediately began life saving efforts. The man was eventually transported to Mad River Hospital where he succumbed to his injuries.

The assault occurred as the result of an argument at the party.

The identity of the deceased, a 19-year-old male HSU student, will not be released until appropriate notifications have been made.

A 23 year old McKinleyville resident, has been taken into custody related to the incident.

The APD is actively investigating and asks for anyone with information about this incident to call the Arcata Police Department at 822-2428.
From HSU:
A 19-year-old Humboldt State University student was stabbed and killed last night, and Arcata Police have detained a suspect.

The name of the student is being withheld while family is being notified.

The incident occurred at an off-campus location. The investigation is being led by Arcata Police Department, with support from the University Police Department.

HSU officials are reaching out to the family of the student, and will be offering counseling and other support for friends, faculty, and others on campus who knew him.

Students who are in need of support during this time are encouraged to contact the Dean of Students office at 707.826.3504 or visit that office in Siemens Hall 211. For assistance any time, students can contact Counseling & Psychological services at 707.826.3236. Staff or faculty seeking additional support may utilize the Employee Assistance Program at 707.443.7358.

Letter from Rossbacher:
Dear University Community:

I am deeply saddened to share news with you that one of our students has died after a stabbing last night. I have no words to adequately describe the sorrow of this loss. This tragedy is heartbreaking for all of us, and most especially the family and friends of the victim. Our thoughts are with them and we extend our condolences.

We are reaching out to provide support and counseling to members of our University community. We will also be in contact and offering support to family members.

The student's name is currently confidential while his family is being notified. Because the incident occurred off campus, the investigation is being led by the Arcata Police Department with significant assistance from University Police.

For assistance any time, students can contact Counseling & Psychological Services at 707.826.3236. Staff or faculty seeking additional support may utilize the Employee Assistance Program at 707.443.7358.

Sincerely,
Lisa A. Rossbacher, Ph.D.
President