Gofundme
Lawson
The Arcata Police Department is continuing to urge witnesses to Saturday's fatal stabbing of Humboldt State University sophomore David Josiah Lawson to come forward and cooperate with the investigation.
"The reality is a 19-year-old young man lost his life and it's terrible and tragic and horrific and I think if anyone has evidence or information, they have a duty to come forward," said APD Chief Tom Chapman.
Chapman said his department is especially keen on speaking with whoever sent it an anonymous email today that provide a first-hand account of the stabbing.
"There were some specifics (in the email) that certainly keyed for me that, if it's legitimate, we need this person to come forward," Chapman said. "They are a key eye witness and potentially a very valuable piece to this investigation."
Police responded to a house party on the 1100 block of Spear Avenue at about 3 a.m. Saturday and found Lawson bleeding from multiple stab wounds. He later died at a local hospital.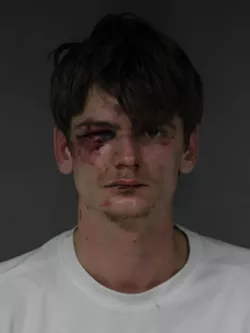 Arcata Police Department
APD Chief Tom Chapman said it's believed Zoellner received some of the injuries visible in his booking photo prior to stabbing Lawson and some after.
Kyle Christopher Zoellner, a 23-year-old McKinleyville man, has been arrested on suspicion of committing Lawson's murder.
Chapman said investigators believe the stabbing came during a fistfight between "multiple parties," including Zoellner and Lawson. It was the second fight of the night involving Zoellner, Chapman said, though Lawson was not believed to have been involved in the first. The fights appear to have broken out surrounding accusations of a cell phone theft, Chapman said.
There's no indication the two men knew each other prior to the house party, Chapman said.
Because Lawson was black and Zoellner is white, Chapman said APD is investigating whether any aspect of the incident may have been racially motivated, adding that the department has not made any determination at this time.
"We have a white male who stabbed and killed a black male — I think it's prudent and logical to look at race as an issue, and I think it absolutely is and should be a part of our investigation," Chapman said.
In addition to getting in touch with whoever sent the email earlier today, Chapman said investigators are looking to find any video footage of the altercations and stabbing that may exist. So far, he said, they have found none.
"Of course, that's something that would be critically crucial," he said.
Chapman said he's also heard concerns raised about the emergency response to the 911 call that came in reporting the stabbing that night, and specifically that medical assistance was slow to arrive on scene. Chapman said he shares these concerns and plans to investigate and address them when appropriate.
"I have heard concerns about the timeliness of the police response and the response of medical aid and fire, and I share the same concerns," he said, later adding that the call came into dispatch at 3:02 a.m. and APD had an officers on scene a minute later. "However, the focus of APD right now is the criminal investigation into Zoellner and assuring that the person responsible for David Lawson's death is held accountable."
HSU is planning to hold an on-campus vigil for Lawson on Thursday. See the press release copied below for details, as well as information about counseling support available to students.
From APD:
HOMICIDE INVESTIGATION UPDATE
On April 15th, at 3:02am officers from the Arcata Police Department responded to the 1100 block of Spear Avenue on the report of a stabbing. At 3:03am the first officer arrived on-scene.

19-year-old David Josiah Lawson, a student at Humboldt State University, was later pronounced dead at the Mad River Hospital as a result of the stab wounds.

23-year-old Kyle Christopher Zoellner, of Mckinleyville, was arrested at the scene for homicide. Zoellner was booked at the Humboldt County Correctional Facility for PC 187 - Homicide.

A knife was recovered at the scene of the crime. To date, investigators have served a search warrant and interviewed over 25 witnesses. Additional search warrants and interviews are on-going.

Today, 4/18, the APD received an anonymous email from someone who may have witnessed the homicide. The email detailed specifics of the assault. The APD implores the author of the email to come forward and provide a statement to investigators. An anonymous email cannot be used as evidence.

Detectives at the Arcata Police Department are continuing the investigation with assistance from the Humboldt State University Police Department and the Humboldt County District Attorney's Office. Anyone who may have information about this incident is asked to call the Arcata Police Department at 822-2428.
From HSU:
HSU Community Comes Together to Remember Slain Student and Support Family

Humboldt State University's Cultural Centers for Academic Excellence will host a prayer service for healing in remembrance of David Josiah Lawson tonight, April 18, from 4 to 6 p.m. in the Great Hall. The service will be held by Galilee Baptist Church.

Lawson, who went by Josiah, was killed early Saturday morning during a gathering that took place on the 1100 block of Spear Ave, in Arcata.

Members of Lawson's family will be arriving in the area on Wednesday, and have asked for a campus vigil on Thursday. Student groups and a number of offices on campus are working together to plan the vigil, and more information including the location and time will be available soon.

The family has also set up a GoFundMe account to raise funds for funeral and transportation services. More information is available here: https://www.gofundme.com/inhonorofDJ.

Students in need of support or help related to classes may contact the Office of the Dean of Students in Siemens Hall room 211 or at 707-826-3504. For assistance any time, students can contact Counseling & Psychological Services at 707-826-3236. Staff and faculty seeking additional support may utilize the Employee Assistance Program at 707-443-7358.