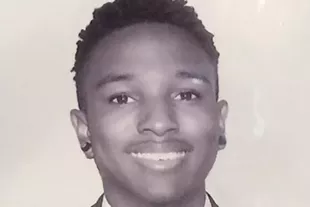 Gofundme
Lawson
The 23-year-old McKinleyville man accused in the fatal stabbing of Humboldt State University sophomore David Josiah Lawson pleaded not guilty to murder and a related weapons charge at his arraignment today.
A preliminary hearing for Kyle Christopher Zoellner is set for May 1, District Attorney Maggie Fleming stated in an email to the
Journal
. His bail is set at $1 million.
HSU President Lisa Rossbacher said in a statement released this afternoon that "we remain focused on supporting our students and doing all we can for Josiah's family."
"Our University Police are continuing to assist the Arcata Police Department, which is leading the investigation," the statement reads. "Looking ahead, we will insist that everything
Arcata Police Department
Kyle Zoellner
possible will be done to pursue justice for Josiah."
The criminology major was apparently stabbed after a fist fight broke out early Saturday morning at a house party, possibly over a missing cell phone. The university and the Arcata Police Department have made repeated appeals asking everyone who was in attendance to come forward.
Yesterday, the APD specifically urged the sender of an
anonymous email
with details about the crime to talk with investigators. APD Chief Tom Chapman also said he plans to investigate and address concerns about the timeliness of the emergency response when it is appropriate.
A vigil for Lawson is set for Thursday.
From Humboldt State University:
A celebration of life in remembrance of David Josiah Lawson will be held on Thursday, April 20, at 5 p.m. in the Kate Buchanan Room.

The family of David Josiah Lawson and the HSU community will gather to to remember the life of Lawson, who died Saturday.

Lawson was a sophomore studying criminology at Humboldt State University and had recently been elected president of HSU's Brothers United. He's remembered by his family for his warm smile and his kindness.

For support: Office of the Dean of Students at 707-826-3504. Counseling & Psychological Services at 707-826-3236. Employee Assistance Program at 707-443-7358.