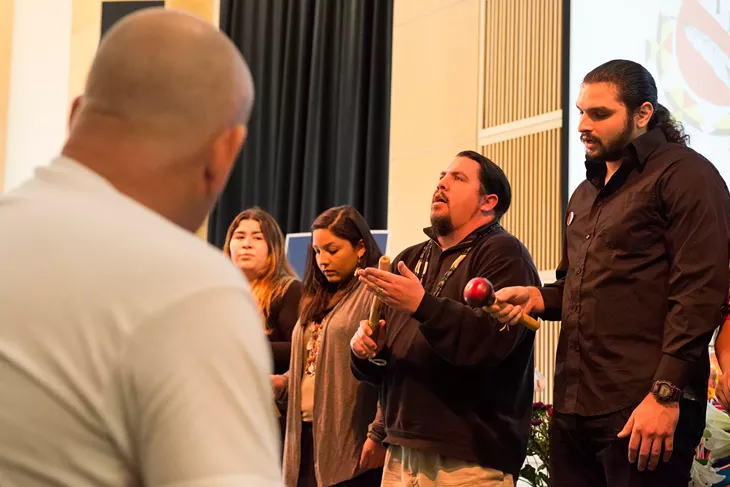 16 slides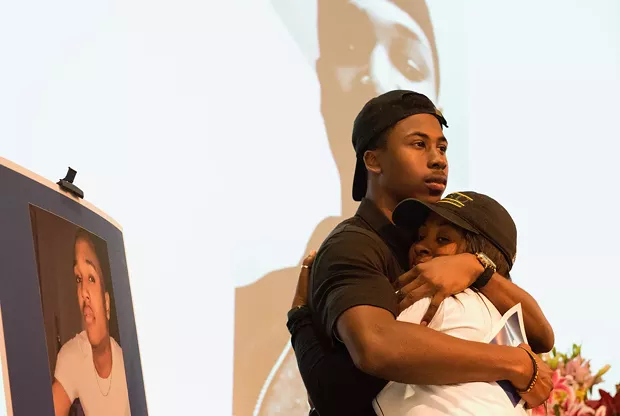 Mark McKenna
Lawson's mother is comforted by one of his friends.
Katauri Thompson, a member of Humboldt State University's Brothers United and close friend of David Josiah Lawson, asked all of the club's members to join him on stage during a Thursday vigil for the slain 19 year old. Fighting back tears and holding one another, the group made their way up from the second row and stood around Thompson.
As they looked out at Lawson's mother, there was a brief moment of silence. "You lost one son that night," Thompson told her. "But you gained 15 more."
The packed Humboldt State hall made it clear that Lawson was a friend and leader to many. His family sat in the front row, which faced dozens of flowers and a photo of the college sophomore.
The criminology and justice studies major died in the early morning hours of April 15 after being stabbed during an altercation at a house party in Arcata. Five days later, the Humboldt State University bell echoed throughout the campus as his family, friends, fellow students, faculty and community members filled the Kate Buchanan room to celebrate his life.
Sobs seemed to break out across the entire room as Thompson introduced HSU President Lisa Rossbacher. "It's beautiful that you could all come here," she said.
Rossbacher noted that everybody in the room was standing on Wiyot land as she introduced Vincent Feliz, who led a group of 10 in a traditional healing song. "This is for the family here," he said.
They sang a song about the willow that Feliz said represents the strength and endurance of the tree. "I sang that at my own mother's funeral," he said.
Corliss Bennett-McBride, director of the Cultural Centers for Academic Excellence and the faculty advisor for Brothers United, stopped to embrace Thompson before relating a story about how she ran into Lawson while out shopping one day.
"Stop by my office and say, 'Hi,' because I don't have any friends," she recalled telling him. Bennett-McBride said Lawson dropped in to see her at least two times a week that semester.
She also acknowledged that students of color often face struggles and culture shock after moving to this remote corner of California to attend HSU. "I am very familiar with the transitional piece students are experiencing," Bennett-McBride said.
Arcata Police Chief Tom Chapman appeared emotional as he stopped to embrace Lawson's mother before taking the stage.
"I want you to know," Chapman said looking at her. "We will have justice for David, it will happen."
Michelle-Charmaine Lawson was surrounded by her family and members of the Brothers United as she took the microphone at the gathering. "Thank you so much, Humboldt family, for being here and for celebrating my son," she said fighting back tears. "My baby, my baby."
Lawson's childhood pastor, introduced as Pastor Phil, also spoke. He reminded the room that they had gathered together to celebrate a young man's life.
"It's not about race," he said. "It's not about religion. It's about life. This is how I know he [Lawson] got it. I see every mix of race in this room."

Editor's note: This story was updated to correct Michelle-Charmaine Lawson's name.
<!—EndFragment—>