Screen shot
Mother owl "Truman" shows her brood.
Things are getting crowded in the barn owl nest in The Ferndale Music Company and the Old Steeple building.
The mother owl "Truman" appears to have now hatched five of her six eggs — with the f
Screen shot
Mother owl "Truman" sits on the nest.
irst two debuting last week in the bell tower of the turn-of the-century former Ferndale church.
The Ferndale Music Company guitar salesman Anthony Taibi said his boss Paul Beatie — who set up the owl cam that gives an up-close view of Truman and her brood — believes the fifth owlet hatched Tuesday. "You can hear them making noise up there," Taibi said.
While Truman spends much of her time using the soft down under her tawny feathers to shield the nest, she occasionally moves enough to show off her growing family. A brief peak today showed one egg amid a parliament of pink owlets crowded together.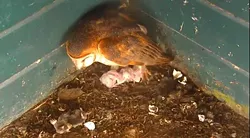 Screen shot
Owlets peak out from under the protection of mother owl "Truman."
The owl cam, which can be accessed using this
link
, is a collaboration between Ferndale Music Company and The Old Steeple and Ferndale Tech.
Note to the squeamish, the steeple nest appears to be well provisioned with dead mice, voles and rats that Truman can be seen gnawing on from time to time and feeding to her young.