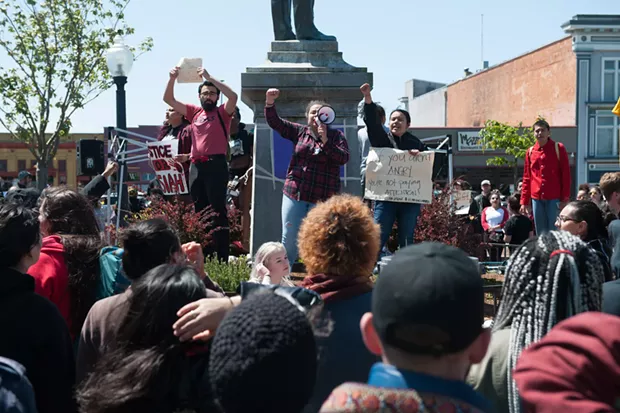 Mark McKenna
For the second consecutive day, protesters descended on the Arcata Plaza on Saturday to demand justice in the killing of David Josiah Lawson.
Arcata has been quiet today after protesters' chants echoed through the city's streets for two consecutive days, demanding justice for slain Humboldt State University sophomore David Josiah Lawson.
More than 100 people descended on the Arcata Plaza yesterday, where they chanted and waved signs before moving on to the Union Town Shopping Center. At the shopping center, which houses Safeway and CVS, the protesters blocked the entrances and exits, refusing to let cars pass unless they first agreed to call the Humboldt County District Attorney's Office to request further investigation into Lawson's killing.
The protest — which came after more than 100 students and community members marched through the streets Friday night — turned tense at times, when some motorists took exception to not being allowed to leave or enter the parking lot. Ultimately, Arcata Police Chief Tom Chapman said protesters remained peaceful.
Lawson was fatally stabbed at 3 a.m. on April 15 at a house party on Spear Avenue. On Friday, Humboldt County Superior Court Judge Dale Reinholtsen ruled there wasn't enough evidence to hold Lawson's accused killer, 23-year-old Kyle Zoellner, to stand trial on a murder charge, prompting Zoellner's release from custody and the protests that have followed.
HSU, the city of Arcata and Chapman have all pledged to continue investigations into Lawson's killing, which have been complicated by a lack of physical evidence and — to date — no eyewitnesses to the stabbing.
On Friday, Chapman said his investigators were still awaiting the results of DNA testing on blood stains on Zoellner's clothes and will continue seeking out additional witnesses. He said the department will continue to work with investigators from the district attorney's office and will spare no resource.
"Whatever resources we need, we'll tap those resources," he said. "This investigation doesn't end until we run out of evidence, leads and witnesses."
One question that the preliminary hearing laid bare is whose fingerprint is on the 10-inch kitchen knife that was found at the scene and that prosecutors believe was used in the slaying. The knife was tested and a single fingerprint was found on the blade, but the print wasn't Zoellner's. Chapman said investigators will continue to work to find out who that print belongs to.
"That is obviously a question that needs to be answered," he said.
Photographer Mark McKenna was at the scene of yesterday's protest and shared the following slideshow. Read about Friday's protest
here
, the judge's dismissal of the murder charge
here
and the chaotic scene of the stabbing
here
.