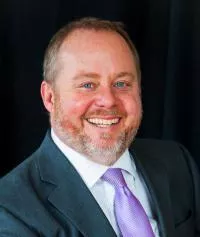 Humboldt County will soon have a new superior court judge.
Gov. Jerry Brown announced this afternoon that he has appointed Conflict Counsel Greg Elvine-Kreis to the judicial seat vacated by Bruce Watson's
retirement
in January of 2016. While Watson's term ended at the beginning of this year, Elvine-Kreis' will run until January of 2019, meaning he will have to be elected in 2018 to retain the position, according to the governor's office. Judges are typically elected to six-year terms.
Elvine-Kreis, who has practiced law for about 14 years, filled the role of interim public defender after Kevin Robinson's
retirement
and is widely respected in the county courthouse. The 47-year-old graduate of University of San Diego School of Law is a Humboldt State University alum and has worked locally since 2010, when he was hired on as a deputy public defender.
Reached this afternoon, Elvine-Kreis said he's excited to take on the new post, which will see him start in the family law division, where he expects to stay for three years.
"I think it'll be great," he said. "It's going to be exciting to relearn a new area of law and I think it's going to be challenging, which I'm excited about, too."
Because Elvine-Kreis has spent the last seven years working in and through the public defender's office he said it would be impractical for him to start in the criminal courts, as he would have to declare a conflict in cases involving clients he's represented in the past.
Elvine-Kreis will be sworn in June 2 in what's called an "enrobing" before heading to a training in the middle of the month. His first day on the bench will be June 19.
In the meantime, he said his focus will be on handing off his current caseload and lining up representation for his clients, which include a couple of murder defendants: William Hinson and James Merrick.
Elvine-Kreis said he's excited to get started on the bench, even though many see it as a largely
grueling, thankless job
.
"I'm just really, really looking forward to it," he said. "I feel like what we do now is public service and I feel like, as a judge, that only broadens and you can touch more lives. I love this community so I'm looking forward to doing this and being a part of it in a broader sense."
See the full press release from Brown's office copied below:
SACRAMENTO – Governor Edmund G. Brown Jr. today announced the appointment of Gregory J. Elvine-Kreis to a judgeship in the Humboldt County Superior Court.

Elvine-Kreis, 47, of Arcata, has been supervising attorney at the Humboldt County Public Defender's Office since 2013, where he served as a deputy public defender from 2010 to 2013. He was an associate at the Law Offices of Mark Berg from 2003 to 2010. Elvine-Kreis earned a Juris Doctor degree from the University of San Diego School of Law and a Bachelor of Arts degree from Humboldt State University. He fills the vacancy created by the retirement of Judge W. Bruce Watson. Elvine-Kreis is a Democrat.

The compensation for this position is $191,612.

Editor's Note: This post was updated from a previous version to include information about when Elvine-Kreis' term will end.