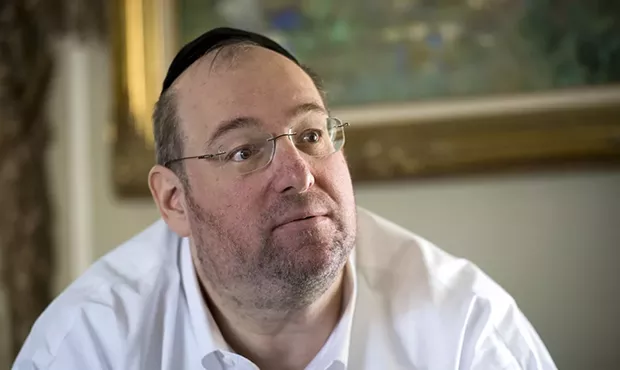 PHOTO COURTESY OF THE SACARAMENTO BEE / PAUL KITAGAKI JR.
Shlomo Rechnitz
Judge Timothy Cissna denied skilled nursing magnate Shlomo Rechnitz's request for a change of venue in a wrongful death and elder abuse lawsuit following a short hearing today, rejecting claims that he couldn't get a fair trial in Humboldt County.
Cissna said the case should be tried locally because it involves a substantial personal injury that occurred in Humboldt County and a recently named defendant lives in the area.
The judge also dismissed arguments made in the change of venue motion that contended "negative news articles" would taint the local jury pool, saying there hadn't been a showing of "undue prejudice."
The civil case before the judge — one of three currently pending against Rechnitz and the skilled nursing facilities he owns in Humboldt County — alleges low staffing levels at Seaview Rehabilitation and Wellness Center contributed to the death of Ralph Sorensen. The 76 year old died in January of 2016 from complications related to an infected pressure ulcer.
Seaview, Rechnitz, Brius and administrative services company Rockport are named in the lawsuit. (Read more about the case
here
.)
After Cissna explained the reasoning for his tentative ruling, he offered attorneys each less than eight minutes to present any further points.
Rechnitz's attorney James Yee, who appeared by phone, unsuccessfully argued that case law requires the venue be moved to Los Angeles County because that's where most of the defendants live.
In court filings, the difficulty of traveling to Humboldt County and finding appropriate accommodations for Shlomo Rechnitz's wife Tamar Rechnitz, who holds a share in the company, were also cited as reasons for the change of venue request.
Those issues were not brought up during the court hearing.
Yee also told the judge that the most recently named defendant was added to the lawsuit as a "doe" in "bad faith" because her name should have been readily attainable and asked Cissna to disregard her Humboldt County residency as a factor in his decision.
Attorney Timothy Needham, who represents Sorensen's family, told Cissna that Yee was citing an archaic case law in his claims about the naming of the latest defendant, who is the administrator of Seaview.
"The arguments they're making are over 100 years old and they are just wrong," Needham said.
Cissna told the attorneys he was following through with his tentative ruling and denied the change of venue motion. The next hearing in the case is set for Sept. 5.