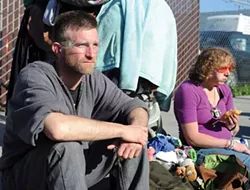 Photo by Mark McKenna
J-son and Brittany sit across from St. Vincent de Paul's free dining facility in Eureka.
A recent entry by Eureka Police Department Chief Andrew Mills
on the EPD blog
addresses the issue of people loitering around the St. Vincent de Paul dining facilty at Third and Commercial streets. Local business owners have complained about an increase in vandalism, drug use and camping in the area. EPD data obtained by the
Journal
shows a sharp jump in calls to the eight-block area around SVDP immediately following the eviction of PalCo Marsh residents, although EPD officially says many of those formerly living in the marsh have been housed, and the people in the SVDP area are mostly new faces from out of town, drawn here by the promise of work in the marijuana industry. A group of business owners met with Mills and Councilmember Marian Brady to discuss their concerns on May 5.
"Business owners, manager[s], and residents have complained of the high level of disorder including drug use, discarded needles, fights, disorderly conduct, large amounts of litter, and bodily waste left in the alleys and surrounding properties," a memo from Mills reads. "People block sidewalks, graffiti buildings and harass pedestrians and motorists. Business has suffered from lost customers, vandalism, and theft. In addition, businesses are concerned for the safety of their employees."
To address this problem, EPD is recommending a multi-phase plan that will include meeting and communicating with the 30-40 people who tend to congregate in the area, then using diversion techniques to reduce complaints. That might include suspension of services from St. Vincent de Paul for some individuals for a temporary period of time. Police may also ask people to clean up an area or perform other tasks to get a voucher that they can exchange for "meal privileges." SVDP may also shut down the facility during a "crisis period."
"To restore services, the individual may be required to perform a community service: clean up trash, pull weeds, paint out graffiti, etc.," Mills states in the blog. "Once completed, they can get a voucher to re-establish services."
The city is also soliciting proposals for a new "day use" area, where people can stay during the day and store "limited amounts of private property." The six-month pilot project "must be easily accessible to the city by foot or bus, but does not have to be in the city." Proposals are due by July 1.