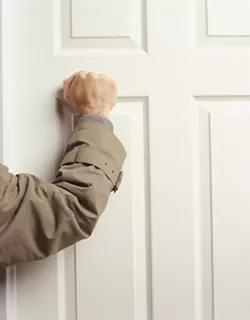 A
video of a Humboldt Hill resident chasing
two alleged scammers down the street while exchanging insults has generated more than 15,000 views on Facebook. The video, posted Tuesday evening by Bill Yeater and shared on several crime-oriented Facebook groups, shows a young man and woman walking rapidly away from Yeater, who is holding two pitbulls on leashes. Yeater says in his post that the people came to his door to do a "PG&E survey."
"I know what you guys are doing, you're trying to harvest our information," says Yeater.
"IGS Energy buddy, it's a real company," replies the woman.
"You're an ugly, nerdy dude with no pussy in your life," says the man, who pulls the young woman away from taking a photograph of Yeater.
Yeater tells the duo that he has "protection" along with his pitbulls.
"You'd better get out of this neighborhood," he adds, saying that the sheriff is on the way.
The Humboldt County Sheriff's Office confirmed that it responded to Yeater's call on Tuesday night, but no report was taken.
The video has generated a storm of comments from Humboldt County residents alleging that scammers are casing their homes, committing identity theft or tracking marijuana grows. These rumors have become common on neighborhood social media sites like www.NextDoor.com, where descriptions and license plate numbers of similar door to door salespeople.
But according to Pacific Gas & Electric spokesperson Deanna Contreras, most door-knockers like this duo are benign. They are most likely Core Transport Agents who are trying to convince you to switch your natural gas supplier. PG&E has a list of certified CTAs available
here
, although the company cautions that it does not officially endorse any of them. Contreras added that there's nothing illegal about door-to-door sales in which customers are persuaded to go with a different gas provider, and that PG&E will continue to provide infrastructure support to customers using a different company. But she warns that some of the sales tactics are aggressive, or even illegal.
"PG&E has seen an increase in customers with concerns about 'impostors' using PG&E's name and logo in person and engaging in door-to-door 'scams,'" reads Contreras' official statement. "Sometimes they turn out to be solicitors from alternative energy companies trying to get people to switch their service with aggressive sales tactics."
These tactics may include wearing clothing or lanyards with PG&E's logo, dropping the company's name in their sales patter, or asking to see a customer's gas bill. (Redwood Coast Energy Authority reports it has also received calls about this issue in which door-to-door salespeople have dropped the nonprofit's name.) Contreras has heard of customers being switched to another gas company without consent after having given their PG&E account number to a sales rep. In the video, the woman identifies herself as a representative of IGS Energy, a natural gas and electricity supplier based in Dublin, Ohio. IGS contacted the
Journal
to say the two people were not IGS employees.
"We haven't had door to door representatives selling in California in over 2 years," said IGS representative Kerri Ward. "This is very concerning to us."
The HCSO was unable to provide statistics on how many complaints it has received about similar aggressive sales tactics. The Eureka Police Department said it has also received complaints; in most cases, they have been able to confirm that door-to-door gas pushers belong to legitimate businesses. Neither agency has confirmed a correlation between these salespeople and robberies.
"In general, it is important that people do their research before providing sensitive information and signing up for anything," EPD public information officer Brittany Powell told the
Journal
via email. "Legitimate businesses should be able to provide their name, business information, and allow you to research before committing to services. If in doubt, call the police and provide a detailed description, including clothing, appearance and direction of travel."
Contreras seconds this advice, saying that anyone who comes to your door should be able to provide company identification.
So, at the end of the day, were these two breaking the law? If they were indeed purporting to be affiliated with PG&E, probably. Yeater, who answered questions via Facebook Messenger on his lunch break today, says they came to his door saying they were conducting a PG&E customer service survey. He alleges they also asked his neighbor for marijuana and asked about grows in the area.
"I believe they were running a scam and casing places to rob," he told the
Journal
.
Editor's Note: This story has been updated to include a statement from IGS Energy.