A recent pair of break-ins to Betty Chinn's warehouse on West Second Street has drawn attention to the Eureka Police Department's efforts to address crime and loitering in the area. On Wednesday, under the direction of the Public Works department, employees of Mercer Fraser erected a fence that effectively cordons off the west side of Third street across from the St. Vincent de Paul dining facility, an area that, in recent months, has been a place where many homeless and transient people have spent the day. Local business owners have complained about problems with theft, vandalism, violence and other issues, and have been meeting with the chief of police and other officials in order to discuss potential solutions.
The break-in and theft from Chinn's warehouse appears to have been the tipping point for public sentiment, but plans to disrupt the gathering have been in effect for several months. With arrest serving as insufficient leverage, EPD has instead developed a multi-part plan, announced in May, that will "improve the overall business climate in the surrounding area." But how exactly the plan will be implemented and enforced, and its efficacy, might raise more questions than it answers.
In the memo titled "
Crime and Blight at 3rd and Commercial
," authored by Chief Andrew Mills on May 8, Mills references a 30-year history of people gathering adjacent to St. Vincent de Paul, where meals are served daily.
"However, in the past year the number of people spending the day on the sidewalk and street has grown," Mills continues, referring to a surge in activity at the location since the city evicted a long-standing homeless camp in the PalCo Marsh on May 6, 2016. According to
data analyzed by the Journal
, there was a steep increase in police calls for service to the eight-block radius around the area in the months immediately following the marsh eviction.
EPD Capt. Steve Watson says both logged complaints and anecdotal evidence, as well as observations by officers, has supported the idea that there are "increasing crowds of homeless, increasing crime and disorder" in the area.
"It got to the degree where there were a number of businesses extremely frustrated with (the) progression of problems down there," he says. "Graffiti was increasing. They left trash right in front of free meal, on the waterfront … it looked like a neighborhood people had given up on."
As part of the process, Watson, Mills and others held meetings in front of St. Vincent de Paul to address the crowd of people waiting there for meals, with the request that they take accountability for the criminals among them. Watson said in an interview this week that he believes this chastisement fell on deaf ears.
"There's some group responsibility that needs to take place," he says. "We've had compassion, compassion, compassion. Several people have told me they're not interested. We don't want to paint everyone with a broad brush, because that wouldn't be fair. We don't want everyone to have a consequence but virtually everyone who's sitting there has a mess sitting in front of them. We're looking for solutions."
One of the proposed solutions is to temporarily stop services at St. Vincent de Paul, effectively communicating to those who congregate in front of the building that bad behavior by some will curtail meals for all. EPD is also working out the kinks in a program that will see specific offenders exchange clean-up duties and chores in the area for meal vouchers. The dining facility complied with EPD's request to shut down for several days after the warehouse break-in on June 28. But St. Vincent de Paul employees have expressed some discomfort with the idea.
"We will work with the police department when it's in the best interest of all concerned," says Russ Shaddix, a St. Vincent de Paul board member. "We constantly talk to people. We don't think we should condemn all of them."
The facility, which has been at its Third Street location since 1981, serves an average of 350 people every day. Many, cook Mary Price says, are not homeless. They are elderly, on disability, or employed at the fish cannery down the road but unable to make enough money to cover all of their meals.
"We've served the children of a city councilman, of a police officer, of a local businessman," says Shaddix, adding that the majority of the people they serve are local.
Linda Stansberry
Russ Shaddix, Larry Alexander and Mary Price pose for photo before the St. Vincent dePaul lunch.
"It's easy to become homeless," says Price, adding that she lost her housing for a period herself when her landlord passed away. Stories they hear from clients include the loss of support from parents, the ongoing issue of mental health problems or health problems and the inability to find work because of mental and physical health issues. St. Vincent de Paul hires many people through the welfare to work program, and they often need special coaching and direction in order to do their jobs.
"The fallacy is that you just put people to work," says Shaddix. While the organization is willing to work with EPD and the community, the closure, he and Price say, was difficult. "No one has the answer. People don't want to see people carrying all their belongings down the street. But there are no good guys or bad guys. We're just people trying to help people.
He and Price add that staff periodically refuses service to disruptive individuals, and 86 troublemakers. Even now a picture of two of the people arrested with belongings stolen from Chinn's warehouse is taped to a kiosk on the inside of the door. But the proposed voucher system sounds challenging to the dining hall staff, which relies on a barebones crew and a rotating group of volunteers simply to serve the needy.
"We don't make people sit on the sidewalk every day," says Price.
True, says Watson, but the community is asking their staff to be proactive.
"Their services are a privilege, not a right," he says. "St. Vincents' ultimately reserves the right to choose who they serve. ... They serve an important function, [but it] can't be as simple as saying 'Outside our facility, it's not our problem.'"
Along with using access to services as leverage, Watson says the EPD is implementing other steps from its April plan, including continuing to solicit proposals for a temporary day use area for homeless folks, the deadline for which is the end of July. (No complete proposals have been turned in yet, Watson told the
Journal
as of July 7.) Officers have conducted field interviews with many homeless folks in the area to determine where they are coming from. EPD has also implemented "environmental changes," among them the chainlink fence, which Watson says are intended to discourage behavior business owners have found troubling.
Paul Ambrosini, of Ambrosini and Sons Electric, says the fence had an immediate positive impact on his work environment.
"It's going great, I can leave my gate open all day," he says. "I'm pretty happy with the place that we're at."
Ambrosini says that the presence of people immediately in front of his business, with dogs and shopping carts, occasionally confronting employees and customers, had a negative effect on his business.
"I've gotten into altercations with people," he says. "We brought our guns to work. I'm not going to sit in my office and be threatened by someone who doesn't want to work."
Now, he says, things have calmed down, at least for the meantime. The break-ins at Chinn's storage area shone a light on problems with crime and transience in the area, an attention he says was overdue.
"Now they're being policed, just like they should have done the whole time," he says.
The break-ins, which occurred on June 28 and July 3, resulted in the arrest of four people for possession of stolen property. The warehouse contained items Chinn uses in her outreach work and school supplies for formerly homeless college-bound students. Community members have rallied to help clean the warehouse and to raise money for Chinn's foundation. Watson says an investigation is ongoing, with several promising leads. An alarm has also been added to the building.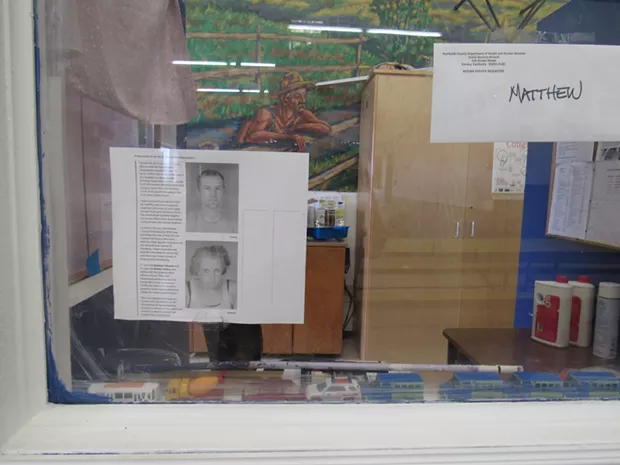 Linda Stansberry
Pair found with stuff stolen from Betty Chinn's are on St. Vincent's 86'd list.