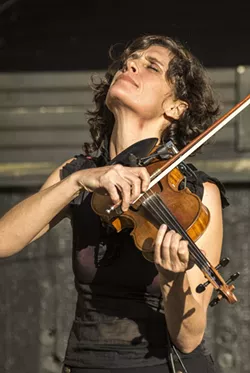 Mark Larson
Jenny Scheinman's performance was a highlight of the 39th annual Humboldt Folklife Festival.
The week-long Humboldt Folklife Festival in its 39th year drew large crowds to its events this year, according to Patrick Cleary, one of the many Humboldt Folklife Society members who organized the event. Cleary said this year's festival was dedicated to the memory of Susan Anderson, one of the original members of the Humboldt Folklife Society back in 1978 who died this past year.
Personal highlights for me included Thurday's Bluegrass and Beyond show that included Clean Livin', Jenny Scheinman and The Compost Mountain Boys at the Dell'Arte Amphitheatre. Scheinman's virtuoso skills on the fiddle and singing of her creative and sometimes very personal lyrics were outstanding.
Scheinman first played solo on tunes from her latest release
Here On Earth
(a tribute to fiddle tunes). John Wood then accompanied her on his keyboard for songs that she has written that were very personal, funny, sad and a few based on her memories of growing up in Petrolia behind the "redwood curtain."
The Folklife Festival came to a close on Saturday in Blue Lake with its All Day Free Fest of workshops and18 bands performing on two stages. Check out the full slideshow below.
16 slides