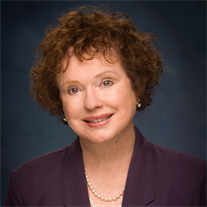 Mary Beth Wolford, a longtime educator and former Eureka city councilmember who "retired" to Humboldt County in the late 1990s only to immerse herself in a number of civic endeavors, has died. She was 85.
According to her
obituary
on the
Lost Coast Outpost,
Wolford died July 29 in Fairfield, where she moved in 2013 to be closer to family.
"I'll really miss her," said 4th District Supervisor Virginia Bass, who served with Wolford on the council. "She was a real gem. She gave a lot to every community she lived in."
A former school teacher, Wolford paved new ground by becoming the first woman to serve as a superintendent in Contra Costa County when she took on the job for the Byron School District in 1980.
She moved to Eureka after retiring from a similar post in Ventura County in 1996 and worked as director of the Humboldt Senior Resource Center for five years before being elected to a single term on the city council in 2002.
The mother of three, grandmother of seven and great-grandmother of three wrapped up her education career as superintendent of the Peninsula School District out in Samoa.
Among her varied interests was a deep appreciation of the city's wealth of vibrant architectural styles. Wolford served a time as Heritage Society president and spent years restoring her Midcentury Modern home overlooking Martin Slough, which she sometimes opened up for tours, according to a 2011
Times-Standard
article.
An Aug. 12 service will be held in Fairfield, according to Wolford's obituary.