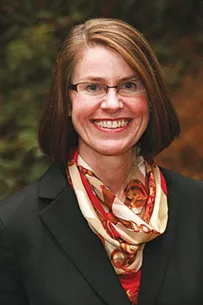 Submitted photo
Humboldt County District Attorney Maggie Fleming.
A representative from the California Department of Justice is expected to arrive in Eureka this week to take over an investigation into possible wrongdoing involving the management of estates overseen by the county's Public Administrator's Office.
District Attorney Maggie Fleming says she was notified by phone Aug. 3 of the state's decision to run the probe, which is looking into whether current and former county employees violated the law by purchasing cars and other items from the estates.
"Other than answering any questions they may have, we will have no role in the investigation," Fleming writes in an email to the
Journal
. "We will also have no involvement in charging decisions or any prosecution."
At the center of the investigation is a California Government Code section that makes it a misdemeanor for a public administrator and "any deputy or agent of such officer" to purchase those estate items directly or indirectly, or to otherwise benefit — personally or in association with someone else — from such a transaction.
Humboldt County Sheriff's Office
Sheriff William Honsal
A representative in the DOJ's press office declined to respond to any questions about the office's role, saying that was necessary to protect the integrity of the case.
The Public Administrator's Office, which came under the Humboldt Sheriff's Office oversight in 2015 with the merger of the coroner's office, manages the assets of people who die without a will or someone to oversee their holdings.
Their property — ranging from cars and houses to dishes and fishing poles — is sold off by the office with the proceeds going to any heirs. If there are none, the money is sent to the state.
Suspected improprieties involving those sales — which appear to date back years — surfaced publicly in late June when Sheriff William Honsal announced that he and Fleming were launching a joint inquiry after his office received a complaint and media inquiry about the practice.
Honsal says six current employees of either the sheriff's office, the coroner's office or the public administrator's office were involved in purchases and those who still had the items returned them.
"I requested that they do that and they all complied and they all saw the need to do it immediately," he says.
Fleming and Honsal reached out to the FBI, which declined to have any involvement, and the DOJ individually after Fleming says "it became clear the investigation would cover multiple individuals and extend back at least several years."
"The potential for some members of the public to perceive a potential conflict of interest seemed significant," Fleming wrote in an email to the
Journal
.
Honsal agrees, saying he and Fleming agreed it was important for "someone totally outside of the organization and the county to independently take a look at the case."
Meanwhile, he says, new policies and procedures — which now include a blanket ban on employees of his office, their family or close friends making purchases — are being drawn up.
"We are still actively doing that to make sure that we have all the laws in place and the public administrator's office is operating above board and that's what has been happening since this whole thing got uncovered," Honsal says.
With an investigator expected to land in Humboldt County on Wednesday, Honsal says he doesn't have a timeline on how long the review will take but he did let the DOJ know he was hoping to "get this done as quickly as possible."
The findings will be turned over to the attorney general.
"At the end of this whole thing, we hope we and the DOJ will be able to issue a joint statement and detail out the reasons why things happened and how we're taking responsibility for this," Honsal says.