Mark McKenna
Renate Pyhel, who was visiting friends from Cambridge, Massachusetts, held rainbow and smiley face flags during the vigil and decided to attend after hearing about it on the radio.
About five dozen people showed up at the Arcata Plaza this afternoon for a hastily planned vigil honoring the woman killed in Charlottesville, Virginia, Saturday.
The vigil, which saw those in attendance form a circle on the plaza's Southeast corner and a number of people speak, was organized by Jill Larrabee, of Show Up Humboldt, and Rachel Montgomery, and came a day after images of white supremacists marching on Charlottesville dominated the Internet. The Charlottesville protests, which were planned in advance of a "Unite the Right" rally scheduled for Saturday night, turned violent when counterdemonstrators showed up to denounce the public display for racism, and small scuffles broke out between the groups, leading to numerous arrests and a few hospitalizations.
Then, in what appears a premeditated act of violence, a car, allegedly driven by James Alex Fields Jr., a 20-year-old from Ohio, plowed through counterdemonstrators as they marched on the street, injuring 19 and killing 32-year-old Heather Heyer.
Two state troopers, Lt. H. Jay Cullen 48, and Berke Bates, 40, were also killed Saturday when the helicopter they'd been using to monitor the protests crash landed nearby.
Both the governor of Virginia and the mayor of Charlottsville have declared a state of emergency, urging protesters to go home.
On the plaza Sunday, all was peaceful, with 60 or so people standing in solidarity, urging love and unity in the face of hate.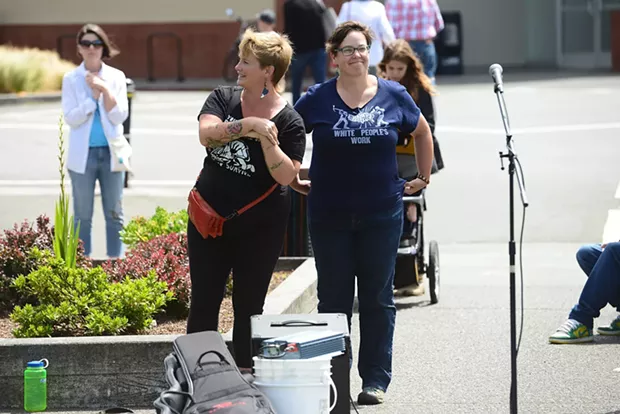 Mark McKenna
Vigil organizers Jill Larrabee, right, of Show Up Humboldt, and Rachel Montgomery opened up the mic to the crowd after speaking.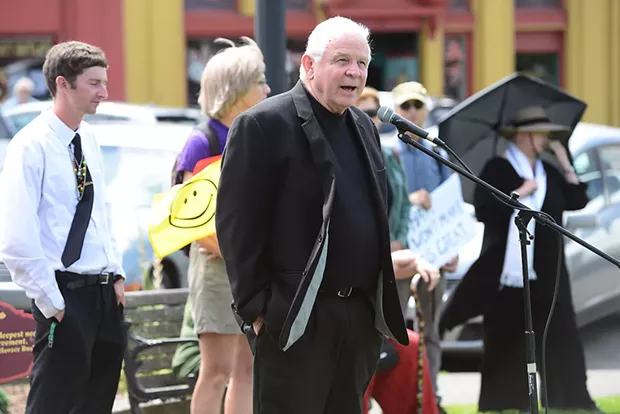 Mark McKenna
Rev. Bryan D. Jessup, of the Humboldt Unitarian Universalist Fellowship, spoke to the crowd, mentioning that his sermon this morning was titled "Raise Peace from the Ashes of War."
Mark McKenna
Around 60 people gathered at the Arcata Plaza's Southeast corner on Sunday for a vigil to stand in solidarity with Charlottesville, Virginia, following a deadly car attack on protesters Saturday.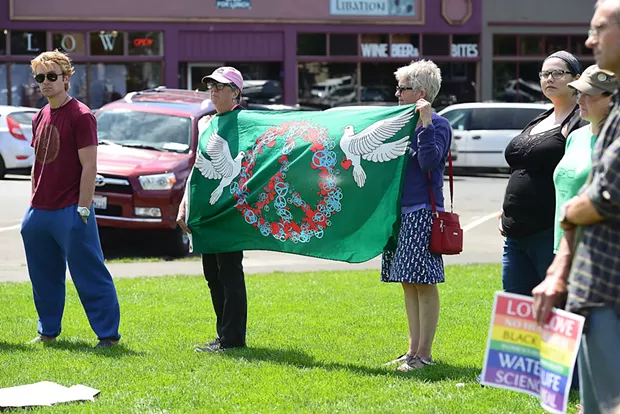 Mark McKenna
Joanne McGarry, left, and Virginia Chatfield, right, held McGarry's "Peace Love Dove" flag during the vigil. Chatfield said she attended because she wanted to support the people in Charlottesville, saying, "It's heartbreaking to see that happening in our country and hard to know what to do about it." McGarry said she has been standing for peace on Fridays with the Veterans for Peace, stating that she would be standing at the McKinley statue all week at 6 p.m."We need to be visible in our community as people of peace. Young and old, rich and poor, we all need to be visible," said McGarry.
Mark McKenna
The crowd circles up on the Southeast corner.