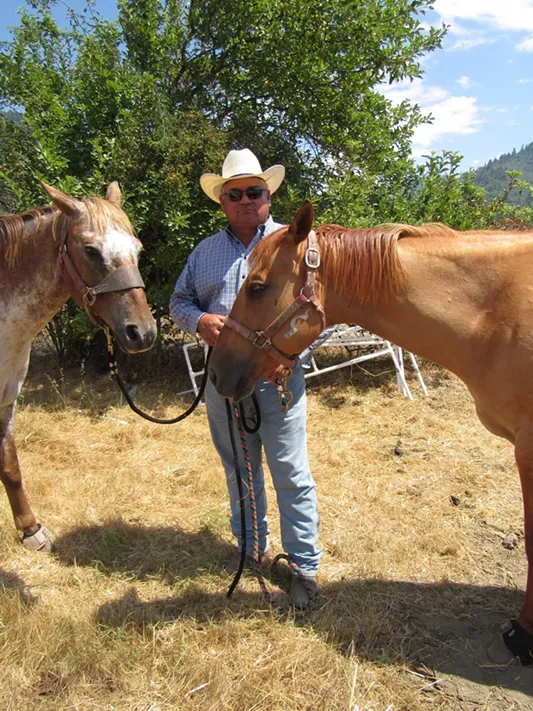 Linda Stansberry
Jerry Parrish with Barker and Kitty.
We hope you enjoyed this week's
cover story "Holding On: A Day at the Hoopa Rodeo
." Below you'll find a chunk of missing time from our hour-by-hour account of Saturday, Aug. 5, an interview that was cut for length from the cover, and a slideshow of photos taken during the day.
12:30 p.m.
Jerry Parrish, 58, is sitting with some friends next to his RV under a pop up shade umbrella. His wife brings the men sandwiches, bologna on white bread. Like Autumn, Parrish is in the senior division, a former bull rider who now team ropes. His license plate? 2TOWIN, referencing the two feet he needs to lasso in order to score.
Parrish travels with two quarter horses, a 16-year old gelding named Barker that he uses for heel roping, and a 7-year old mare named Kitty that heads. Barker came off the back of a kill truck. Parrish says he saw potential in the gelding, whom he bought for $400. Barker has led him to several victories in the Indian National Finals Rodeo; Parrish has qualified for the finals seven times and is a three-time year-end champion in the senior division.
Parrish points to a mark on Kitty's jaw, a freeze brand indicating she came off of Oregon's prestigious Bill Hill Ranch, which is known for raising talented roping horses.
"I don't want to say how much I paid for her," he says.
Parrish says he practices five days a week, training his horses and improving his roping skills.
"It's a big thing to make it in the finals," he says. "It's hard work."
He and his partners didn't make time on Friday but they've got two more steers tonight, enough to qualify for the next big go-round in Idaho.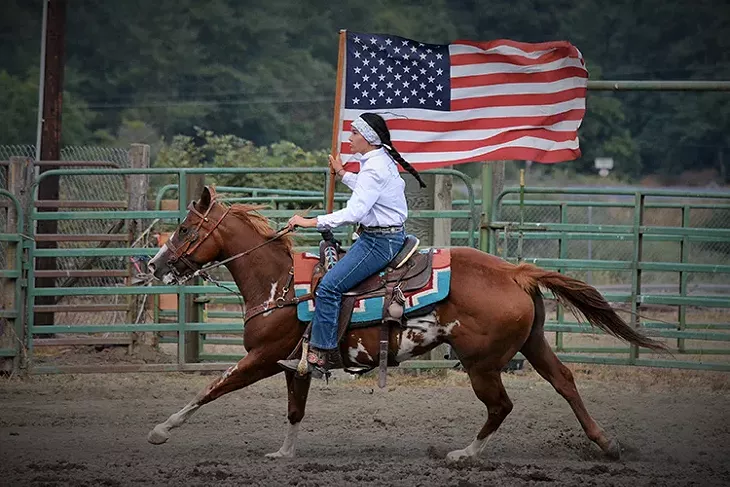 27 slides