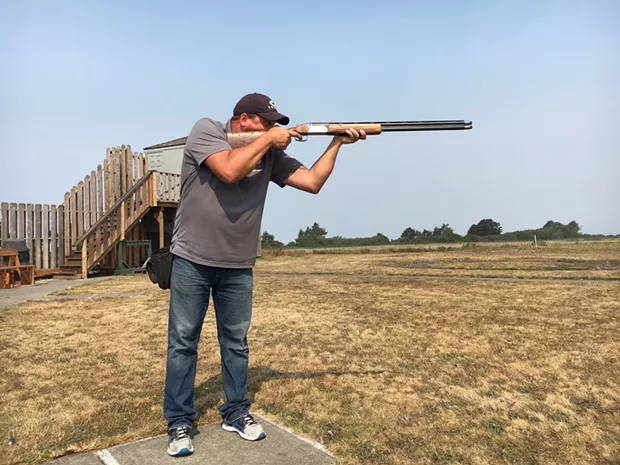 Jennifer Fumiko Cahill
Dan Jones takes aim.
Turns out skeet shooting isn't necessarily a young person's game, at least according to Dan Jones. He ought to know — the 45-year-old McKinleyville native has just climbed to No. 1 in the
national rankings
by the National Skeet Shooting Association and he's on his way to compete against some 400 to 500 shooters at the U.S. Open in Chicago this week and another 1,000 or so at the World Championship (which he won in 2014) in San Antonio right after that.
"You'd think younger people would have an advantage," Jones says, but "40 to 55 is kind of the prime." He attributes this to "life stability," having settled into a career and lifestyle built around competitive skeet. His cabinet contractor business Jones Woodwork allows him to schedule around the competitions that take him out of town 16 to 20 weekends a year. Not everyone has that option. "You see really good kids, you see a talented 22-year-old show up but they don't have the longevity," he says. Having the support of sponsors helps, too, he says.
Jones himself started late in 2000 at the age of 28 after a cousin took him to the McKinleyville Trap and Skeet Club near the airport. He'd shot out by the river before but after experiencing the focused setting of the range, he says, "I was hooked." Lacking the kind of formal instruction other areas have, Jones says he taught himself, reading and watching videos, as well as getting help from club president Joe Wheeler, who Jones says took him under his wing. With the exception of a hiatus to get his business up and running, he's been shooting ever since.
Jennifer Fumiko Cahill
Dan Jones.
At competitions, shooters move from station to station, shooting in a semi-circle between the high and low houses, a pair of structures from which clay targets are launched. Competitors shoot 100 targets each in four different gauges. Jones shot his fourth career perfect 400 this year.
Standing by a bench at the McKinleyville Trap and Skeet Club with his custom-built shotgun bent over his arm, Jones pulls his 2014 World Championship ring from his pocket. It's hefty with a bright blue stone. "That's our Super Bowl," he says, turning it in the light. "That's what you want."
Jones isn't shy about his record. He says he's been called arrogant but shrugs it off. "People who shoot here recreationally can't comprehend what I've accomplished. I fight that on the local level but on the national level I'm respected," he says. Jones gestures to Wheeler, the club president who's sitting on the bench, nodding and squinting in the sun. "I'll quote Joe Wheeler: 'If you don't like Dan Jones, you don't know him,'" he says.