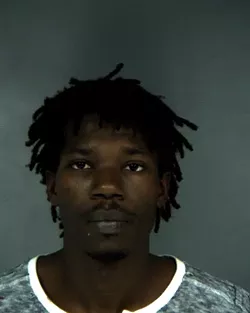 Twenty-six-year-old Ervin Eugene Sweat Jr. was wanted on a pair of warrants and facing imminent arrest when he stepped out of a Ford truck and opened fire on police officers, initiating the gunfire exchange that killed him, Arcata Police Chief Tom Chapman said at a press conference this afternoon.
According to Chapman, Sweat fired at least two shots at the officers from a semi-automatic .40 caliber Smith and Wesson pistol, one of which struck Humboldt State University Police Officer Louis Altic in the upper thigh. Altic and Arcata Police Officer Matthew O'Donovan returned fire, with all nine of their shots hitting Sweat, who was later pronounced dead at Mad River Community Hospital.
Chapman and UPD Chief Donn Peterson both said Altic is lucky to be alive, noting that the bullet narrowly missed the femoral artery in his right leg, with Peterson saying a surgeon described it as a "miracle."
"We all feel very, very fortunate to have him with us still," Peterson said of Altic, who has served as an officer for more than a decade, having moved to UPD from the Eureka Police Department a couple years ago.
Chapman said this is the first time a police officer has been shot in Arcata since April 1, 1980, when an officer was wounded shortly before shooting and killing a suspect during a foot chase after an armed robbery. This is also the first time APD has shot and killed a suspect since that incident. (The department had gone 36 years without an officer-involved shooting before officers wounded a suspect at a gas station last year.)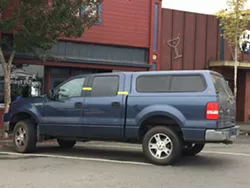 Thadeus Greenson
This truck, marked with evidence tape and awaiting towing, is reportedly the vehicle from which the suspect emerged and opened fire this morning.
Police responded to Arcata's bar row on the Arcata Plaza shortly before 1:30 a.m. to a call of a physical fight, Chapman said, but arrived after it had been broken up or dispersed. As officers investigated, a bystander told them one of the people involved in the fight had brandished a handgun and was now in a blue Ford F-150 parked in front of Toby and Jack's bar. When officers turned their attention to the truck, Chapman said, Sweat got out of its rear passenger seat. The chief said video footage from the dash camera of a responding patrol car shows Sweat exit the vehicle and immediately level the pistol at police.
Chapman said all indications at this early stage of the investigation are that Sweat opened fire almost immediately, firing at least two shots. Officers returned fire, fatally wounding Sweat, and then immediately began administering CPR.
During the press conference, Chapman said Sweat is from Antioch, Tennessee, but appears to have bounced back and forth a fair amount between there and California. There are records of local law enforcement contacts with him going back to 2014, Chapman said, later noting that the booking photo sent out with APD's press release was from a local arrest in 2016.
Chapman declined to opine as to why Sweat allegedly decided to draw his gun on police, but the chief did note that Sweat was a convicted felon in possession of a firearm with two active warrants out for his arrest — one stemming from a firearms possession case out of Santa Barbara County and a no-bail warrant stemming from a local felony evasion case.
"Mr. Sweat was going to go to jail that night," Chapman said.
There were four other occupants of the Ford truck when Sweat stepped out, but all have been cooperative with the investigation, Chapman said. The chief estimated 50 to 100 people were milling around in front of the bars at the time of the shooting.
Chapman closed the press conference by expressing gratitude to UPD, which routinely offers back up to APD, as Altic was doing Saturday morning.
"This is one of the most … gut-wrenching calls you can get in law enforcement," he said. "As a chief, getting a call at 2 a.m. to hear an officer is down — I don't know that I'll ever forget that moment."
The shooting is being investigated by the multi-agency county Critical Incident Response Team, with officers from the Eureka Police Department, sheriff's office, district attorney's office, Fortuna Police Department and California Highway Patrol participating, along with technicians from the California Department of Justice crime lab. The investigation's findings will ultimately be forwarded along to District Attorney Maggie Fleming, who will decide if any of the officers involved acted criminally.
Altic and O'Donovan are both currently on administrative leave, which is standard protocol after critical incidents.
Chapman began the press conference this afternoon noting that it was falling on the 16th anniversary of the Sept. 11 terrorist attacks. He noted that more than 60 police officers and 300 firefighters lost their lives that day because they chose to run toward danger in an effort to help those in need.
"Louis Altic was shot running toward danger — really, literally running to danger," Chapman said.
See the full press release from APD copied below.
FOR IMMEDIATE RELEASE
3RD UPDATE - OFFICER INVOLVED SHOOTING
On September 9, 2017, at about 1:25 a.m., the Arcata Police Department received a 9-1-1 call reporting a group of males physically fighting in the street near 9th and H Streets. Officers from Arcata Police and University Police Departments arrived on-scene at 1:27 a.m. When the officers arrived they did not see anyone involved in a fight. While they were in the area investigating, a bystander reported to an officer that one of the people involved in the fight had brandished a handgun. The bystander pointed out a vehicle with which they believed the person to be associated.

An Arcata Police in-car camera captured video showing 26-year-old Ervin Eugene Sweat Jr. from Antioch, Tennessee, get out of the rear passenger seat of the vehicle and immediately point a handgun at the police officers. The video does not capture the entire incident.

Initial reports indicate Sweat fired two shots at the police officers, one of which struck University police officer Louis Altic in the upper right leg. Officer Altic and Arcata police officer Matthew O'Donovan returned fire with nine total shots, all of which hit Sweat. The handgun used by Sweat to shoot Officer Altic was recovered at the scene. The handgun, a .40 caliber semi-automatic Smith & Wesson was reported stolen from a local sporting goods store in 2015.

Immediately after the shooting, police officers began life-saving efforts on Sweat. Arcata Ambulance transported Sweat to the Mad River Community Hospital where he was pronounced dead.

Officer Altic was transported to Mad River Community Hospital where he was treated and released. Although his injuries are serious, he is expected to make a full recovery. Officer Altic has 12 years of law enforcement experience, the last two years with University Police. Officer O'Donovan was not physically injured. He is a five-year veteran of Arcata Police Department. As is normal protocol in officer involved shooting cases, both officers have been placed on administrative leave.

This investigation is being led by the Humboldt County Critical Incident Response Team (CIRT). CIRT is a multi-agency team comprised of local law enforcement agencies that train and respond to officer involved injuries and deaths. In the case of incidents where an officer is involved in a shooting, it is the best practice for outside agencies to conduct the investigation.

The Humboldt County Critical Incident Response Team for this investigation includes the Eureka Police Department, Humboldt County Sheriff's Office, Humboldt County District Attorney Investigators, Fortuna Police Department, California Highway Patrol and the Department of Justice Crime Laboratory. The results of the CIRT team investigation will be forwarded to the Humboldt County District Attorney for review.

Anyone who may have information about this case is asked to call the Arcata Police Department, (707) 822-2426.