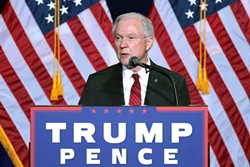 Gage Skidmore/Wikimedia Commons
U.S. Attorney General Jeff Sessions.
The House of Representatives has just said no to U.S. Attorney General Jeff Sessions' attempts to lessen restrictions on taking money and property from people suspected but sometimes never even charged let alone convicted of a crime — a practice called asset forfeiture.
Read the
Journal
's previous coverage about the controversial legal procedure in the March cover story
"The Trump Card" here
.
According to reporting in the
HuffPost
and
The Hill
, bipartisan amendments attached to a government spending package — expected to be voted on later this week — would prohibit the Justice Department from using federal funds to relax limits put in place by the Obama administration.
The move takes aim at Sessions' July order to unravel those controls, an action he described as being "especially for drug traffickers" in prepared remarks for a speech he gave that month before the National District Attorney Association.
Sessions has notoriously said that marijuana is "slightly less awful" than heroin and that "good people don't smoke marijuana."
"With care and professionalism, we plan to develop policies to increase forfeitures," Sessions' remarks read. "No criminal should be allowed to keep the proceeds of their crime. Adoptive forfeitures are appropriate as is sharing with our partners."