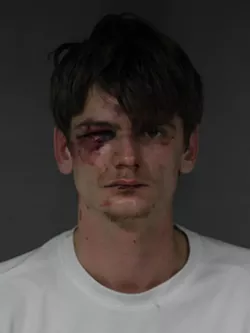 Arcata Police Department
Kyle Zoellner's mug shot.
Kyle Zoellner, a McKinleyville man who remains the sole suspect named in the April stabbing death of Humboldt State University student David Josiah Lawson, has filed an initial claim for money or damages against the city of Arcata. Zoellner was released after a pre-trial hearing in May, with Judge Dale Reinholtsen determining there was insufficient evidence to hold him to stand trial on a murder charge.
The claim, which is included in the agenda packet for the city council's Nov. 1 meeting, names 12 city employees "complicit" in Zoellner's pain and suffering. That suffering, as detailed in the claim, includes lost wages, medical bills, loss of personal property, defamation of character, pain and suffering and emotional distress. As an unlimited civil case, the amount requested from the city could be more than $25,000.
In the details of his complaint, Zoellner describes being "brutally beaten unconscious" at the house party where Lawson was stabbed to death around 3 a.m. on April 15. He says he was detained by the Arcata Police Department without medical attention, describes himself as having been in a semiconscious state when he was interrogated by APD, and says he was "arrested without probable cause." He names several APD officers, including arresting officer Devin Nielsen and APD Chief Tom Chapman, claiming they "filed a false police report with the Humboldt County District Attorney's Office" and engaged in "malicious prosecution and wrongful imprisonment." He also accuses Arcata employees and elected officials of "defamation of character ... by means of public statements and press releases."
The item on the consent calendar includes a recommendation that the council reject the claim and refer it to the city's insurer, the Redwood Empire Municipal Insurance
Fund, which is an almost universal first step in claims brought against the city.
Testimony by witnesses during the pre-trial hearing described a hectic scene, with multiple fights breaking out at the house party on Arcata's Spear Avenue. Zoellner and his father approached APD in May to ask them to press formal charges against two of Lawson's friends who allegedly beat Zoellner. The city of Arcata, in collaboration with several community partners and the California State University fund, has raised a $55,000 reward for information leading to the arrest and conviction of Lawson's killer.