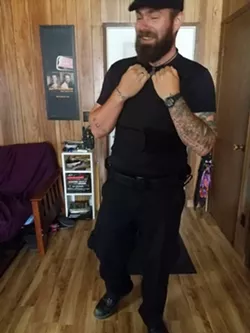 Submitted
Krigbaum (off duty)
"Stop thanking me," says Brandon Krigbaum. The tall, bearded former wildland firefighter has been picking up and discarding loose needles in Eureka for a month and a half, and has gotten used to congratulatory messages on social media and his voicemail. At the Oct. 17 Eureka City Council meeting, Councilmember Kim Bergel lauded his volunteerism. But that's not what Krigbaum wants.
"I would rather people go out and start doing something of their own," he says. "I'd rather people go out and start cleaning."
Krigbaum does not have an estimate as to the number of needles he's picked up since starting his one-man campaign. He says they're too numerous to count. The 29 year old spends around two hours a day responding to requests that he visit a certain corner, park, parking lot or meadow. People also ask him to pick up and discard sharps containers they have filled themselves. (The Journal estimates that, based on needle distribution and return numbers reported by the Humboldt County Department of Health and Human Services and the Humboldt Area Center for Harm Reduction,
around 7,000 needs go unaccounted for each month
.)
Krigbaum, who moved to Humboldt from Placerville less than a year ago, says he began picking up loose needles because he was "frustrated." An outdoors enthusiast who once volunteered with a needle exchange program in San Francisco, he got fed up with the number of needles in Humboldt's open spaces and the apathy he saw on social media around finding solutions.
"I saw everybody posting, 'Hey there's needles but EPD won't come pick them up, where do I take them, how do I put them away,'" he says. (The Eureka Police Department changed this policy Oct. 1.) "Everybody wanted to complain, but nobody wanted to put them away. I want them to be disposed of properly and safely."
He underscores that there's nothing difficult or extraordinary about what he does. He wears leather shoes, thick pants and surgical gloves when he works. He just put in an online order for sharps containers so he can distribute them to some local businesses (the plastic containers cost a few dollars each) but they're also available for free from EPD or the Humboldt Area Center for Harm Reduction. Disposal at the dump is free.
"All I'm doing is working on a symptom of a bigger problem," Krigbaum says. "If I don't do it, who else will?"
He added that there seems to be more enthusiasm for cleanups since he started a Facebook group to spread the word,
Needle Clean-Up of Humboldt County
.
"It's really gotten the ball rolling," he says. Krigbaum works nights, and says he used to wake up to four to five voicemail messages and multiple tags on Facebooks alerting him to loose needles. His life has been a little quieter lately, with more people following his example.
"If we all took a care of a little section this place would be spotless," he says, adding that the focus on needle exchange programs as being to blame for more sharps is misplaced. There might be more needles on the ground but, thanks to harm reduction groups, the chances of those needles being free of blood borne diseases is much improved.
Facebook
A haul from Krigbaum's work.
"The chances of those needles being dirty are less," he says. "They want to do track and trace, find out where the needles are coming from, that way you can put a blame. So many people are focused on the users, have yet to hear people talk about the dealers. I'm putting a Band-Aid on it. A Band-Aid on a gunshot wound. Until things start changing higher up, I'm going to keep picking them up."
Krigbaum was once a young punk rock kid, riding the rails and "living out of a backpack." He earned his way around the U.S. doing carpentry in Michigan, roofing in Oregon, picking peaches in Yuba City. He says his 20-year old self would laugh at his current incarnation but everything he does is in service to the life he's now trying to build in the place he chose to call home.
"I'm tired of traveling. Now I want to settle, want to have a house ... the whole American dream," he says. "I want to have kids someday. I don't' want them to grow up in a town covered in needles."