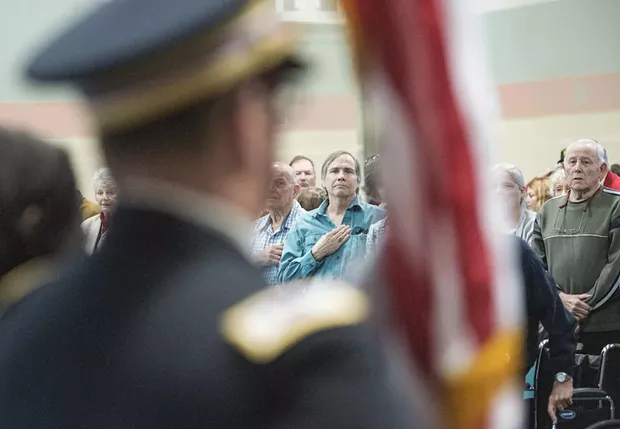 Mark McKenna
An event honoring Korean War veterans at the Adorni Center last year.


Brave and True
Here's to our veterans old and new,
who've heard our country's call.
Those of all religions be,
of every nationality.
Even our women fair,
have come to join the fray.
Here's to those who've fought and died,
and those who've come home battle scarred.
Look kindly down upon them lord,
where ever they may be.
For if not for those brave souls,
who've heard the battle cry,
America's freedom would assuredly lie,
tattered and broken,
the spoils of war.
Hold them brave and true,
honor them proud Red, White and Blue.
For all you've done,
WE ALL THANK YOU.
Local veteran
Bob Hager
, who wrote our
cover story
a few weeks back, penned the above poem and asked that we share it with you this Veterans Day, and he joins us in thanking all veterans for their service.
If you're looking for something to do today to honor the veterans in your midst, check out our calendar listings
here
, which detail a few Veterans Day events around the county. (And remember, a simple face-to-face thank you goes a long way.)
And if you look out at the gray day and decide you're better suited staying where it's warm, we'll point you to this week's cover story, "
The Journey of Radioman
," a powerful piece by Amy Barnes about local veteran Eric Hollenbeck, his battle with post traumatic stress disorder, his efforts to help other veterans and, now, his project to capture their voices.