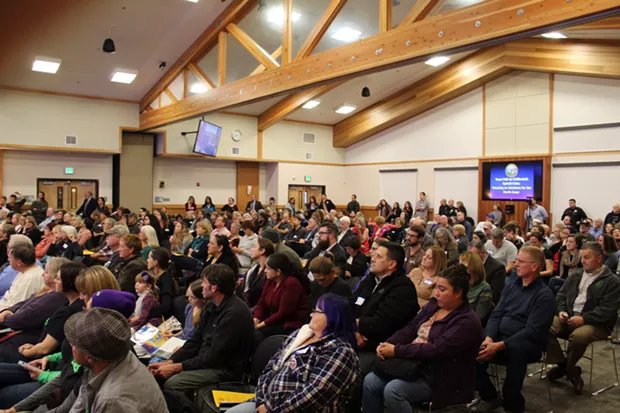 Andrew George Butler
More than 250 people attended the opioid town hall meeting last night put together by state Sen. Mike McGuire and Humboldt County Supervisor Virginia Bass.
Speaking before a Sequoia Conference Center packed with more than 250 people for Tuesday night's opioid town hall meeting hosted by state Sen. Mike McGuire, Humboldt County Supervisor Virginia Bass announced the county has received a $4.8 million federal grant to create a new local opioid help center.
The meeting saw presentations from a handful of local and state officials on the opioid epidemic and a host of questions from the public, most of them centering around the safe disposal of hypodermic syringes locally.
Bass said the center will focus on opioid education as well as finding treatment for its clients. The center will be one of two dozen new "Hub and Spoke" clinics in California. The clinics' model is an adaptation from Vermont's system, which has drawn national praised for its opioid addiction work. Bass said she expects to see Humboldt's hub start to come to fruition in a couple months.
Bass also addressed the topic of needle disposal, which — judging by the questions from audience members — is clearly of public concern. Bass said in the next couple months a number of kiosks will be installed around Eureka purely for the safe disposal of needles. "This is something we have to embrace as a community issue in order to make a change," she said.
Eureka Police Chief Steve Watson said the "needle tsunami" sweeping across the city could see some relief in the coming months. He said his department has been working with local health service entities to tighten up the flow of needles into the city. Watson didn't disclose what specific steps the department has taken.
As we've
previously reported
, there's a growing frustration in Eureka especially with discarded needles, which has drawn some public ire at harm reduction needle exchange programs run by the Humboldt Area Center for Harm Reduction and the county Department of Health and Human Services. Based on a
Journal
analysis, the two entities combined to give out more than 425,000 needles through the first half of 2017. Even with the approximately 90 percent needle return rate both groups report, that leaves some 7,000 needles unaccounted for each month.
Andrew George Butler
State Sen. Mike McGuire addresses the crowd.
McGuire mostly acted as the town hall's facilitator but not before addressing his constituency.
"Humboldt is not alone ... Few issues have created as much controversy among our neighbors as this," he said. "As the controversies grow, the problems deepen."
Several state and local experts gave short talks about the root causes of opioid addiction, specifically making defining opioid addiction as a treatable disease. Marlies Perez, of the California Department of Health Care Services, appeared via video-chat.
"Addiction is not a moral failing. It is a brain disease. We cannot arrest our way out of this problem," she said, adding that, according to state statistics, 74 percent of people who use opioids were at some point able to get them from friends or family. This led Perez to her final message for the audience, listing several ways individuals can help turn around the opioid crisis.
"Dispose [properly] of your prescriptions, educate your children and reduce the stigma around this disease," she said.
Humboldt County Public Health Officer Donald Baird attempted to give the audience an accurate picture the average person suffering from opioid addiction.
"The vast majority of these people own homes and their average age is 50," he said.
Lisa Dugan, director of the North Coast Regional Department of Child Support Services, addressed the crowd on a personal level. Dugan talked about her daughter, Allison Dugan, who will soon be released from federal prison after having fallen into the vicious cycle of opioid addiction. "She's one of the most kind-hearted people I know," Dugan said, recalling her bright personality. Dugan said her daughter accepted opioids from a co-worker while she working at Costco, coaxed into the idea that the pills would provide a harmless lift to a hard job. The cycle of addiction soon followed. "If this were any other illness, people would have been bringing us casseroles," Dugan said.
Humboldt's general mortality rate is 33 percent higher than the state average, said Dana Murguia, with the Humboldt County Department of Health and Human Services. Murguia also said Humboldt's suicide rate is two-and-a-half times the state average, and drug-induced deaths are three times higher than the California average.
Nationally, 64,000 people died due to opioid overdoses in 2016, making it the leading cause of death for people under the age of 50, Perez said.
Humboldt clearly has a disproportionate opioid problem in the face of a national epidemic.
McGuire ended the town hall by committing to hold another meeting in several months, with the hope of showcasing progress made in the fight against opioid abuse in Humboldt.
"Hold our feet to the fire," McGuire urged the crowd.