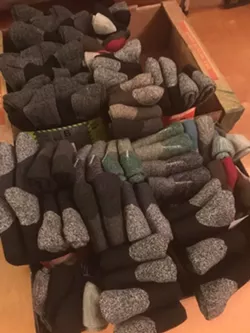 Facebook
Boxes of socks awaiting donation.
Those in need of some extra warmth can pick up a pair of socks on Thanksgiving Day, thanks to the volunteers who have been accepting donations of warm apparel in preparation for the holiday.
"It's something I've wanted to do for a few years," says Samantha Sweeney, who lives and works in Old Town. "It's a conscious refusal to take part in the stress of the holiday season."
Sweeney says that on her daily walks through Old Town she sees many homeless people exposed the winter weather.
"I myself have a family member on the street," she told the
Journal
.
So Sweeney hatched a plan to spend the day serving those in need. She collaborated with a friend and, within a week, the Old Town Community Sock Drive was underway. Sweeney posted notices for donations at several Old Town businesses and dropped off flyers advertising the event, which will begin at noon Thanksgiving Day at Clarke Plaza, the Rescue Mission, the Betty Kwan Chinn Foundation and other locations.
So far, Sweeney and the other volunteers have received 150 pairs of socks, some of which were purchased with donated money. Sweeney says more have been pledged. Muddy Waters also donated some coffee to serve during the event. Rain is predicted for much of the day tomorrow. According to the event's Facebook page, donations of socks and snacks are still being accepted. Those interested can drop off socks at Talisman Beads until 4 p.m. or contact Sweeney through the sock drive's
Facebook event page
.
The event will go until 4.p.m. or whenever the volunteers run out of socks.
Editor's note: This blog post was updated to reflect the correct name of the coffee donor. The
Journal
regrets the error.