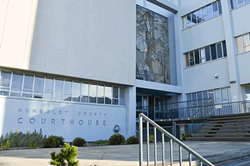 Local attorney Patrik Griego announced this morning that he will be dismissing the lawsuit he brought challenging David Marcus' appointment as Humboldt County public defender in light of Marcus'
resignation
.
In the short release (copied below), Griego notes that his lawsuit was challenging whether Marcus met minimum state qualifications for the job when the Humboldt County Board of Supervisors hired him to succeed Kevin Robinson, who'd recently retired from the post. Marcus' controversial tenure came to an abrupt end when he resigned his post Wednesday night, hours after the board spent almost two hours in closed session discussing Griego's lawsuit and reviewing the performance of an unnamed county employee.
Sources
told the
Journal
earlier Wednesday that Marcus had packed up the personal belongings in his office and left at about 2:30 p.m.
It's currently unclear if the board has appointed an interim public defender in the wake of Marcus' departure, which came a few weeks before Griego's lawsuit was scheduled for a pivotal hearing in the case.
Griego had
previously offered
not to pursue the recovery of fees and costs — which he estimated had run up to $125,000 in the case — if Marcus left county employment, whether it be via resignation or termination. Griego said this afternoon that he will not be seeking to recover those costs from the county.
County Counsel Jeffrey Blanck was unavailable for comment when the
Journal
called this morning.
See Griego's full press release copied below:
Press Release:

We have been informed that Mr. Marcus has resigned from his position as Public Defender. Based thereon, we will be dismissing our lawsuit against the County.

Our lawsuit was based on a statute that defines criteria for eligibility to serve as Public Defender in California. In our view, eligibility for appointment is a low bar for a candidate to meet. The controversy surrounding Mr. Marcus was based on questions regarding his job performance, a matter that is addressed through the confidential County Human Resource process.

There is no evidence that the District Attorney and/or the Sheriff improperly influenced the selection of Mr. Marcus as Public Defender.

Our office wants to thank the Public Defender's Office employees who stepped up and demonstrated their commitment to their clients, as they do on a daily basis. We also want to thank the private citizen petitioners who understood the value in continuing to provide a strong Public Defender's Office to our community.

Editor's note: This post was updated from a previous version to note that Griego said he will not seek to recover fees and costs from the county.