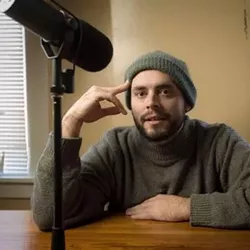 Twitter
John Sepulvado
John Sepulvado, host of San Francisco public radio station KQED's California Report, is reporting from KHSU this week. The California Report is broadcast on public radio stations across the state. This morning, KQED
aired an interview
with Humboldt County Sheriff William Honsal in which he talked about the impact of prison realignment on local jails, saying that people who would normally sober up and receive services in the Humboldt County correctional facility are instead being released onto the streets in the midst of mental health crises, creating a situation that looks like "the walking dead."
Sepulvado also interviewed a man recently released from the jail, Earl Gordon, describing his face as "busted up, like he spent the night sleeping on a pillow that was made of fists." Gordon begins crying during the interview, describing an overdose in 1997, and saying he is "very, very high" during the interview.
In a phone interview, Sepulvado says he doesn't see Gordon as just "someone that's high on the street and worthy of judgement" but, rather, as a person enduring a mental health crisis and not receiving the services he needs.
"The problem with methamphetamine has not gone away here," Sepulvado told the
Journal
. Sepulvado studied at College of the Redwoods for a semester in 1998 and says he is invested in exposing the "disintegration of our rural communities."
In a
previous broadcast
, aired Wednesday, Dec. 13, Sepulvado describes Humboldt County as being "rich in natural beauty and not much else." Future broadcasts will include an interview with Michelle-Charmaine Lawson, the mother of slain HSU student Josiah Lawson, college students who are experiencing homelessness and a successful local fisherman. He also intends to "share a little serenity with the state" by broadcasting for 30 seconds from within the quiet of a local redwood grove.
"I want to make it clear that we're not parachuting in and saying, 'Humboldt County is so messed up,'" he told the
Journal
. "We believe that what happens in San Diego is just as important as what happens in San Francisco, as what happens in Arcata, Eureka, Trinidad. It's really important to us to tell the story both of struggle and success. We are all connected. I think it's important to highlight that."