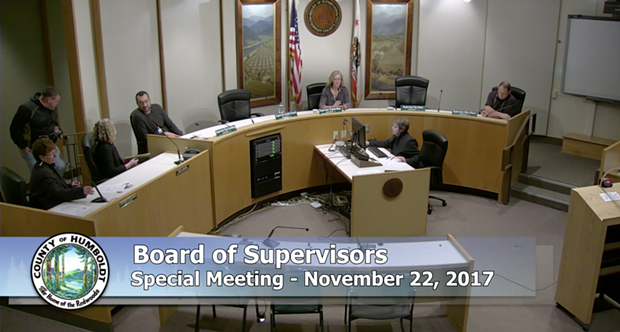 First District Supervisor Rex Bohn declines to take his seat as the Humboldt County Board of Supervisors convenes its Nov. 22 closed session meeting to discuss the fate of Public Defender David Marcus.
When the Humboldt County Board of Supervisors convenes tomorrow, it will discuss whether to approve a severance agreement for former Public Defender David Marcus that has already been executed and can't legally be ratified.
The
severance agreement
, which followed Marcus' Nov. 22 resignation after nine embattled months on the job and pays him about $25,000, was signed by Marcus on Nov. 29 and board Chair Virginia Bass on Dec. 7. Per the terms of the agreement, it was to be considered executed after the final signature and contains no clause that would allow the board to amend the agreement or require its ratification.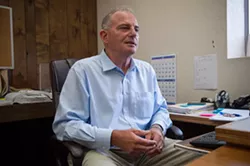 File photo
David Marcus
The meeting — which will also see the board consider penning a letter to a state lawmaker pushing a safe injection site bill — will be the
third time
in recent weeks that Marcus has been on the agenda.
The board met in closed session the day of Marcus' departure, then again
Dec. 5
to formally accept his resignation and appoint Kaleb Cockrum as his interim replacement. But while staff had represented that the board would discuss Marcus' severance agreement at that meeting — and then maintained that it had implicitly approved the agreement when voting to accept Marcus' resignation — County Counsel Jeffrey Blanck tells the
Journal
in an email this morning that wasn't the case.
Last week, the
Journal
sent what's known as a "cure and correct" letter to Blanck and the board informing them that we believe the county violated state open meeting laws by failing to put the severance agreement on the agenda and discuss it in open session.
"There was no Brown Act violation by the board of supervisors because no discussion or direction was given by the board regarding the agreement outside of any public meeting," Blanck writes. "The timing of the events required quick action by staff that is now being ratified by the board. If they don't ratify it then there is no agreement and we would reopen negotiations with Mr. Marcus based on board direction. We will see what the board does on Tuesday."
Blanck has not responded to a follow up email asking him to point out the specific section of the agreement that provides for board ratification.
The agreement, meanwhile, does note that if either Marcus or the county sues to enforce its terms, the prevailing party would be entitled to recover attorneys' fees and costs from the other.
In an email response to the
Journal
's "cure and correct" letter, Supervisor Rex Bohn didn't dispute that a Brown Act Violation occurred but, rather, seemed to take issue with our calling it "a substantial violation" of one of the act's central provisions.
"Death, Starvation, Cancer are substantial instances," Bohn wrote, "clerical indifferences and procedures don't reach that scale."
In other matters, the board is slated to consider
a request from Bohn
to approve sending a letter to California Assemblymember Susan Eggman asking for the removal of Humboldt County from her Assembly Bill 186, which seeks to create a pilot program in six California counties allowing them to set up safe, monitored locations for people to use intravenous narcotics. The controversial bill wouldn't require the counties — or cities within them — to set up the safe sites, but would give them the option of doing so.
Modeled after a facility in Vancouver, centers set up under the bill would provide clean needles and a staff of healthcare workers on site to help prevent overdoses and refer users who want to quit to detox facilities. The sites would not provide drugs but would offer addicts a safe harbor from criminal charges while using on site. (Read more about it in past
Journal
coverage
here
.)
Humboldt County was included in Eggman's bill due to its high rate of drug use and overdose deaths. But Eggman and her staff apparently failed to consult with local officials prior to drafting the bill, which has rubbed some the wrong way.
Bohn is requesting that the board approve a letter from its chair officially asking Eggman to remove Humboldt as a potential location for the pilot program.
"No county official in Humboldt County was contacted about inclusion in this legislation when it was introduced in the 2017 legislative session," the proposed letter states. "While we appreciate innovative efforts aimed at harm reduction, we believe Humboldt County is not prepared for injection facilities. Humboldt County is actively working on strategies to address drug addiction but an injection services program is not part of the county's approach."
Part of that approach is the addition of two syringe disposal kiosks that the county's Department of Health and Human Services announced today have been placed at the Public Health and Social Services buildings at 529 I St. and 929 Koster St. in Eureka.
A third one is scheduled to be installed soon at the department's main Mental Health building, also in Eureka, according to the news release. In addition, small sharps containers are available at each location's front desk during normal business hours.
"The kiosks were purchased in response to community members and partner organizations expressing concern about syringe litter, and asking for a place to dispose of used needles," Dana Murguia, a senior program manager with DHHS's Healthy Communities Division, said in the release.
Bohn did not respond to an email asking if he sought input from city officials within Humboldt County before bringing the issue forward.
Both the letter and Marcus' severance package are included on the board's consent calendar, which is reserved for matters considered routine and generally enacted in a single vote without discussion.
Read the full DHHS release on the syringe disposal kiosks below:
Two syringe disposal kiosks have been installed in Eureka, and a third is on its way. The kiosks, purchased by the Humboldt County Department of Health & Human Services (DHHS), are intended to provide a safe and convenient location to dispose of used syringes.

The kiosks are located at the main Public Health and Social Services buildings A third one is scheduled to be installed at the main Mental Health location soon.

"The kiosks were purchased in response to community members and partner organizations expressing concern about syringe litter, and asking for a place to dispose of used needles," said Dana Murguia, a senior program manager with DHHS's Healthy Communities Division.

The disposal bins are part of the department's Syringe Services Program (SSP), which provides needle exchange, information about overdose prevention, referrals to treatment programs and other services.

"Syringe exchange is an important component of an SSP," said Michele Stephens, DHHS Public Health director. "It helps reduce the incidence of new HIV and viral hepatitis infections by decreasing the number of people sharing syringes and other injection equipment."

DHHS Director Connie Beck said, "Needle exchange is a proven harm reduction strategy which increases entry into treatment and reduces overdose deaths. What we want to do now is make sure we're reducing the risk of harm to all county residents."

Beck added, "The volume of needle litter in Eureka is unacceptable. DHHS has been working with its partners to reduce it, and is committed to continuing to do so." She added that conversations about reducing needle litter are taking place in other communities.

The new kiosks are located at 529 I St. and 929 Koster St. Small sharps containers are available at each location's front desk during normal business hours.

Humboldt Waste Management Authority also accepts sharps in appropriate containers and will dispose of them free of charge. For a list of drop-off locations, visit www.hwma.net/disposal-services/medical-sharps.

People who find needles within Eureka city limits that they are unable to collect or dispose of can report them to Eureka Police Department's non-emergency phone number at 707-441-4044.

For more information, contact Public Health at 707-445-6200.
Editor's note: This story has been updated to correct the location of the current kiosks.