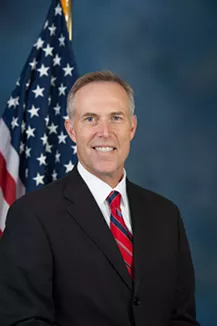 Congress
Jared Huffman.
Shortly after Congress sent the federal government spiraling toward a shutdown by failing to pass a continuing funding resolution tonight, North Coast Congressman Jared Huffman sent out a statement blasting Republicans, laying blame for the "sh*tdown" squarely at their feet.
Earlier today, Huffman voted against the continuing resolution that passed the House and would have funded the government into mid February and reauthorized the Children's Health Insurance Program, which expired in September and provides insurance for some 9 million children, for the next six years. But the bill didn't include any action on DACA, or Deferred Action for Childhood Arrivals, the program that protects nearly a million undocumented immigrants brought to the United States as children (known as "dreamers") from deportation, which Democrats had demanded. That proved a poison pill in the Senate, where the stop-gap funding measure failed to come close to the 60 votes it needed to pass.
The headline of Huffman's statement includes an asterisked reference to Trump's rejection of a bipartisan deal brought forward by Senate leadership that would have funded the government, extended CHIP and renewed DACA protections for dreamers, in part because he reportedly believed the deal allowed for too much immigration from "shithole" — or "shithouse," depending on whose version you want to believe — African countries and Haiti, and not enough from places like Norway. Trump's reaction to the agreement sent lawmakers back to the drawing table and another viable deal never emerged.
From there, Huffman unleashes about 770 words of venom directed at Trump and Congressional Republicans, saying he's "disgusted and dismayed."
"In our country's long history, this has never happened when one party controlled both branches of Congress and the Presidency," Huffman said. "But we've never before seen the toxic combination of a dysfunctional, incompetent majority in Congress and a President that is completely uninformed, unprincipled, and uninterested in the hard work of governing."
Huffman pledges that he won't be "flying off to Mar-a-Lago" in the coming days but will instead work to find a solution that protects dreamers, insures children and funds the government.
A sea of bipartisan finger pointing followed the failed vote in the Senate, with Democrats blasting Republicans for kowtowing to Trump's whims on DACA and using children's health insurance as a bargaining chip, and Republicans accusing Democrats of putting undocumented immigrants above millions of children's health. Both sides seemed desperate to simultaneously avoid and cast blame.
But where things go from here is unclear. With the funding deadline having now passed at midnight Eastern Standard Time, it seems all but certain a swath of federal employees will be told not to show up to work Monday.
In Humboldt County, which includes some 700 federal workers, that likely means some families will see breadwinners staying home on mandatory unpaid furloughs. But the shutdown won't affect all government services. Boaters in distress can still count on the U.S. Coast Guard to come save them, and airline travelers can still rely on the Transportation Security Administration to provide air traffic controllers. Military veterans will still receive services at the VA medical clinic, and active duty members of the armed forces will keep working.
But federal reimbursements for a host of programs, ranging from senior nutrition to school lunches, from infrastructure projects to law enforcement programs, will likely be slowed indefinitely by the shutdown. And some functions will halt entirely. The Trump Administration has indicated it will try to keep national parks open but whether that is achievable, and whether it will extend to the North Coast, remains to be seen. (Federal parks here were closed during the 2013 shutdown.)
Huffman offered this
fact sheet
from House Minority Leader Nancy Pelosi, which offers some basic information on what can be expected during the shutdown. But much will remain unknown, at least until Monday, and for 700 or so North Coast households that makes for a long, uncertain weekend.
See the full release from Huffman's office below.
Rep. Huffman Statement on President Trump's Government Sh*tdown

Washington, D.C.- Congressman Jared Huffman (D-San Rafael) issued the following statement after the United States Congress failed to pass a bill to fund the government, resulting in a shutdown of the federal government:

"Today, I am disgusted and dismayed that Republican congressional 'leaders' and President Trump have brought us to a government shutdown — the very outcome President Trump said he wanted a few months ago. In our country's long history, this has never happened when one party controlled both branches of Congress and the Presidency. But we've never before seen the toxic combination of a dysfunctional, incompetent majority in Congress, and a President that is completely uninformed, unprincipled, and uninterested in the hard work of governing.

"President Trump is wrong in claiming we need a 'good shutdown.' There is no such thing. While the impacts of this lapse in funding are hard to quantify at this point, they will certainly not be 'good.' Not only will it directly impact federal employees, it will harm millions of people who depend on government services, families who want to visit National Parks, small business owners seeking SBA assistance, homebuyers applying for FHA or VA loans, food producers working with the FDA, and more.

"When Republicans shutdown government in 2013 as part of their obsession with repealing the Affordable Care Act, it cost our economy billions of dollars. Now they are stubbornly taking us down the same path because of their hardline anti-immigrant agenda and their unwillingness to work with Democrats on a compromise.

"Despite controlling every branch of government, Republicans have been unable to do the most basic part of their job: pass legislation that funds the government. We have already had three short-term "continuing resolutions" in this fiscal year, and now they are seeking a fourth CR. This chaos and uncertainty is hurting our country — undermining our national security, frustrating those who are trying to build infrastructure projects, and leaving states and local health clinics in limbo as to how they are going to provide healthcare to millions of vulnerable children, among other things.

"Enough is enough. Governing by chaos, crisis, insults and hyperpartisan posturing doesn't work. And no country ever became great by operating under endless short-term government funding deals.

"There is a bipartisan path forward here. A majority of both houses in Congress would support a compromise that funds defense and non-defense programs for the rest of the year, protects the Dreamers while enhancing border security, funds children's health insurance and community clinics, provides critical disaster relief for communities reeling from the recent wildfires and hurricanes, and helps fight the opioid epidemic. Let's bring this bipartisan solution to the floor and vote, instead of continuing the reckless partisanship that has brought us another shameful government shutdown.

"I won't be flying off to Mar-a-Lago for a swanky black tie fundraiser tonight, or jetting off to Davos while our government shuts down. I'm going to stay ready to work, and I call on Republican leaders in Congress to stay in Washington, start working with Democrats, and do their jobs."