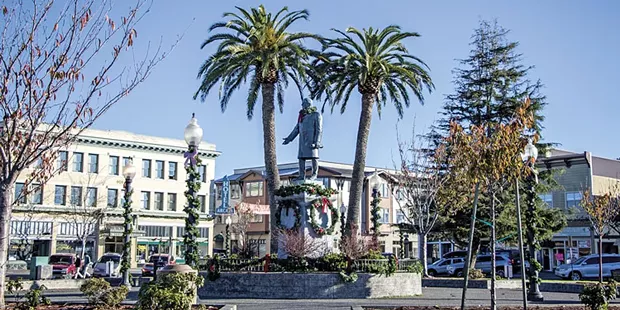 File
The statue of President William McKinley.
Arcata Councilmember Paul Pitino didn't waste any time after listening to nearly three hours of public comment on whether the statue of President William McKinley and an offensive plaque should come down from the Plaza.
"I'd like to get right into it and say I'd like to make a motion to remove the statue and store it somewhere … and remove the plaque," he said immediately after the matter landed back before the council.
Councilmember Susan Ornelas piped in with a quick second. And, just like that, the stage was set.
While a bit more discussion would follow, and the removal of the statue and the plaque would ultimately be separated into two motions, the council summarily decided to dramatically change the city's center on Wednesday.
After more than 100 years of holding court, the controversial bronze work that survived the 1906 San Francisco earthquake to be dedicated to Arcata by a local farmer amid a Fourth of July celebration is coming down.
For many speakers, the statue of the nation's 25th president known for pushing American interventionism is an overtly racist image that has no place in Arcata. Others, however, see a historic figure and a piece of the city's past that should be preserved.
The sole dissenting vote on McKinley's fate was Councilmember Michael Winkler, who said he believed the issue should go before city residents as a ballot measure, one of several options that staff had proposed.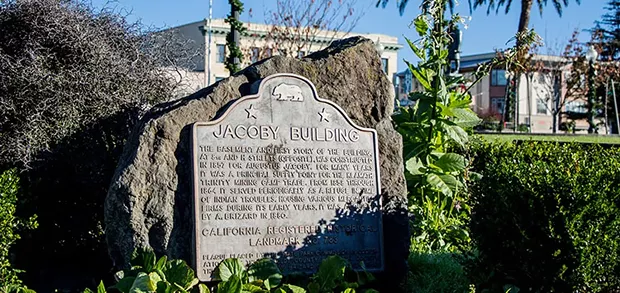 File
The Jacoby Building plaque.
"We're elected by the citizens of Arcata and we need to give the citizens of Arcata a chance to decide this," he said.
The vote to remove a 1963 plaque denoting the Jacoby Building's status as a California Registered Historic Landmark, which includes the affronting wording that "it served periodically as a refuge in time of Indian troubles," was unanimous.
Bill Chino, the building's current owner, has already volunteered to replace the plaque and work with a group to come up with new wording.
After the votes were made, the standing-room-only crowd that spilled out of the council chambers broke out in loud applause with many calling out, "thank you" from the audience.
But there were a few moments of tension during the meeting, with some audience members heckling a speaker who voiced the minority view that McKinley should be celebrated as a Civil War veteran who dedicated his life to public service before he was felled by an assassin's bullet.
There was also shouting back at councilmembers at times, including Ornelas when she tried to explain why she understood Winkler's point of taking the matter to a vote, noting "everyone has something to say about this."
"I feel that it is an important leadership step that needs to happen," Ornelas said of taking the statue down. "It struck me a few days ago that at this point and time I feel that, as our mayor said early, that the preponderance of evidence leads that the statue doesn't symbolize what we want in our living room, the center of our plaza, to symbolize."
Still undecided is what will ultimately happen to McKinley's statue, which was the first major work by renown Armenian sculptor Haig Patigian, although Councilmember Brett Watson suggested it "should leave the city."
And, there's still the not-so-little matter of the city needing to amend the General Plan, including an environmental review, to take the tribute commissioned by Arcata farmer George Zehndner down. The removal has a total estimated price tag of $30,000 to $60,000.
Zehndner paid $15,000 for the work back at the turn of the 20th century.
Mayor Sofia Pereira noted that "gravity of this decision is not lost on this council or this community."
"I know this is a divisive community issue, but I want to say thank you to everyone who participated in this process," she said after the vote.
For Pitino's part, taking down McKinley's statue should just be the start.
"I have to say that when I look at the statue of McKinley, and all that, I'm glad that we agreed to get rid of the statue and I'd love to see the town north of us not be called McKinleyville anymore," he said.
Pereira was quick to respond.
"We'll leave that for another day," she said pausing briefly before continuing, "and another community to decide."