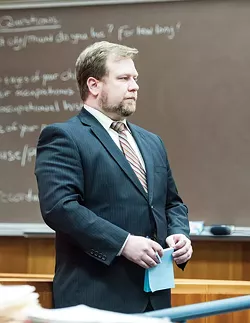 Photo by Mark McKenna
Kaleb Cockrum
California Gov. Jerry Brown has appointed county Conflict Counsel Kaleb Cockrum to step in as Humboldt County's next superior court judge.
Cockrum, 43, will step into the seat vacated by the retirement of Judge Marilyn Miles, who retired in July. He is the third new judge Brown has appointed to the Humboldt County bench since May, following Greg Elvine-Kreis and Kelly Neel.
The appointment does, however, represent another blow for the Humboldt County Public Defender's Office, which Cockrum currently heads in an interim capacity and which lost Neel to a judgeship earlier this year.
Cockrum has served as the supervising attorney in the Humboldt County Conflict Counsel's Office since early last year. He previously worked as a deputy public defender for 13 years.
Brown's appointment brings the Humboldt County bench up to almost full strength, though Judge John Feeney has announced he will retire next month, creating another vacancy.
Read the full release from Brown's office
here
.