Mark McKenna
Fortuna High School students pause for a moment of silence.
Students in high school classrooms across the North Coast walked out at 10 a.m. this morning, taking part in a national walkout day organized to bring awareness to gun violence and school shootings.
The 17-minute walkout took place in solidarity with students at Marjorie Stoneman Douglas High School in Parkland, Florida, with each minute representing one of the 14 students and three adults killed in a mass shooting there Feb. 14.
On the North Coast, the demonstrations took different forms in different places.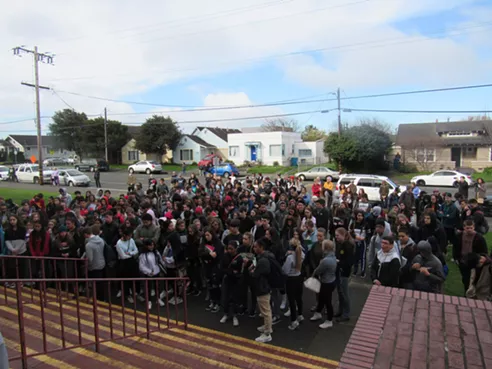 Linda Stansberry
More than 100 students walked out of Eureka High School and gathered on the front steps.
At Eureka High School, more than 100 students walked out of class and gathered facing the front steps where Klayre Barres, a freshman, took the mic first to ask for five minutes of silence. Afterward, she called for students to spread kindness and offer support, holding up a sign that said #17ActsofKindness.
"I think the shooter at Stoneman Douglas needed someone," she told the crowd, encouraging them to reach out to people who seemed lost or lonely.
On the topic of firearms, Barres said National Walkout Day, which is being observed in schools across the county, "isn't about Republicans or Democrats."
"It's about the kids and students in school," Barres said, and her words were greeted with a round of applause.
At the end of the 17 minutes, the crowd dispersed so the students could go back to class. But Barres and several of her classmates stayed behind to accept hugs from community members, many of whom were wiping tears from their eyes.
"I'm hopeful for the first time in a long time," said Laura Cangas, a Eureka resident who attended the rally in her pink "pussy" hat. "It's because of the kids."
Mark McKenna
Fortuna High School senior and walkout organizer Brigette Faulk addresses about 150 students across the street from campus.
Down at Fortuna High School, senior Brigette Faulk and a few friends organized students to walk out and gather across the street from campus in the parking lot of Bob's Footlongs, where a group of about 15 retired teachers greeted them with applause and stood by in support. Faulk addressed the 150 or so students gathered, reading the names of each of the Parkland victims before pausing in a moment of silence.
Geneva Samuelson said the Parkland mass shooting hit home at Fortuna High, which was rocked in 2016 after administrators uncovered what they believed to be a pair of students planning a mass casualty event (though that was later determined not to be the case).
"Fortuna High has felt fear, so it was really shocking to me when I heard about (Parkland)," she said. "No high school student should ever feel that fear."
While the students gathered, Fortuna Police school resource officer Lindsey Frank stood by. She said she showed up in part to to block traffic and make sure students got across the street safely.
"I also want them to know that I support them," she said. "It's very important they understand they're supported and being heard."
Faulk said student organizers met with school administrators prior to the walkout and got assurances they wouldn't face any punishment for leaving school for the protest. But some administrators at other schools took different tack.
Fortuna Middle School administrators shared a flier on Facebook urging students to "walk up" instead of "walk out."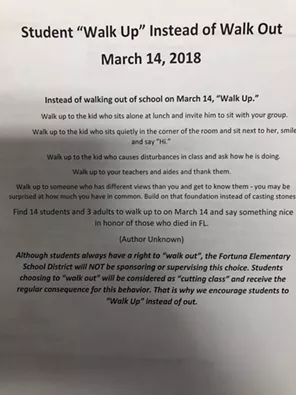 Facebook
Posted to the Fortuna Middle School Facebook page.
"Walk up to the kid who sits alone at lunch and invite him to sit with your group. Walk up to the kid who sits quietly in the corner of the room and sit next to her, smile and say 'Hi,'" the post read, urging students to find 14 fellow students and three adults and say something nice to them in honor of the Parkland students. The post ended by warning students that participating in a walkout would be considered "cutting class" and met with normal consequenes.
In Arcata, students from Arcata High School filled the plaza, holding signs reading "#EnoughIsEnough" and "Gun Control Now!" Meanwhile, students at Northcoast Preperatory Academy took a different approach.
At the strike of 10 a.m., they began filing out of their classrooms into the front parking lot of their small Arcata campus.
"Everyone, come over here," senior Mattea Denney called out to the growing crowd that quickly gathered around her as she thanked them for joining the walkout.
"It takes courage and it takes strength," she told them. "I'm personally proud to see the immense amount of strength our generation has shown this month."
As small sheets of white paper with a sample script and the numbers of Congressman Jared Huffman, senators Kamala Harris and Dianne Feinstein and the White House were passed around, Denney explained the plan to spend the time calling their elected officials.
"We're going to make sure our government representatives know how young people feel at this school," said Denney, one of school's organizers for the walkout, which was student-led and voluntary.
"We do feel it's important to not penalize our youth for advocating their perspective and what they feel needs to be done for their lives and their world," said biology teacher Alyssa Guerrero, as she kept a hands-off watch on the group.
With a bucolic open field serving as a backdrop, the students quickly set to action, pulling cell phones from jacket pockets and dialing. While some stood in groups sharing a phone, others went off to the side by themselves, their voices began melding together in an overlapping message about the need for gun control.
Sam Armanino
Mattea Denney (left) and other Northcoast Preparatory Academy students call lawmakers during their 17-minute walkout.
"I walked out of my class today because enough is enough."
"I walked out of my class today because I believe I should be safe in my classroom."
"I walked out of my class to protest gun violence."
When a live person answered, the students became more animated. "She thanked me for calling," one girl said after reaching someone at the office of Huffman, who's been an outspoken critic of President Donald Trump and advocate for changes in gun laws.
Most of the calls, however, appear to have gone unanswered. While Harris' office had a message machine lined up, Feinstein's office was repeatedly busy, and the White House didn't seem to be letting anyone through.
"White House music. White House music," one student narrated while stuck on hold as he walked around.
After 15 minutes, Denney called her group of fellow students back together. For the last two minutes of the walkout, they stood together in silence to honor the 17 people killed at Marjory Stoneman Douglas High School exactly one month ago.
Gathered in a circle, no one spoke. Some bowed their heads. Others looked ahead. No one looked at their phones. When the time was done, they quietly began walking back to class.
Malia Freedlund
Students at Triple Junction High School and Mattole Middle School participated in a somber walkout at 10 a.m. this morning.