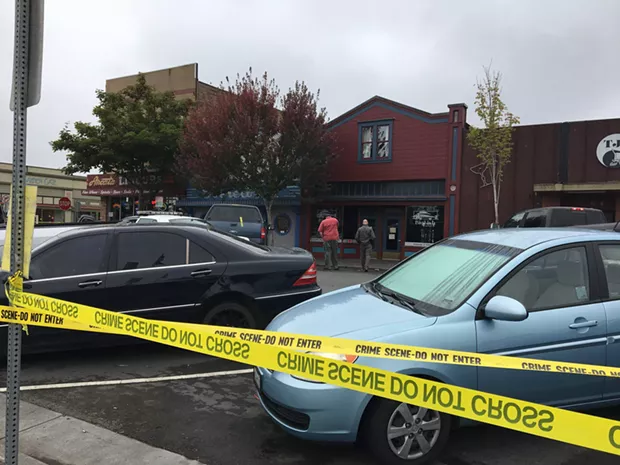 Thadeus Greenson
The taped-off crime scene at bar row on the Arcata Plaza.
The parents of a 26-year-old man shot and killed by Arcata and Humboldt State University police in September have filed a claim for damages with the city, alleging negligence, wrongful death and "conspiracy to cover up."
Ervin Eugene Sweat Jr. allegedly opened fire on police officers, wounding one, with a stolen .40 caliber handgun in front of bar row on the Arcata Plaza shortly before 1:30 a.m. on Sept. 9, 2017, when officers returned fire, hitting Sweat nine times. He was later pronounced dead at a local hospital.
The injured officer, University Police officer Louis Altic, was shot in the leg but has since recovered fully and returned to duty.
Officers had responded to the plaza that night to a call of a physical fight. When they arrived, they reported that fight had been broken up or dispersed but a bystander told them one of the people involved had brandished a handgun and was sitting in a blue Ford F-150 truck parked nearby. When officers approached the truck, Sweat allegedly got out of the truck's rear passenger seat and leveled a pistol at the officers and opened fire.
As is customary with claims against the city, staff is recommending the city council reject the claim at its meeting Wednesday and refer it to the Redwood Empire Municipal Insurance Fund, the joint powers authority that acts as the city's insurance pool.
Arcata Police Chief Tom Chapman said he couldn't comment on the allegations in the claim, but said the multi-agency critical incident response team's investigation into the Sept. 9 shooting has concluded, with its findings forwarded to the Humboldt County District Attorney's Office for review some months ago.
For more on the shooting, see past coverage
here
. View the full claim filed by Sweat's parents
here
.