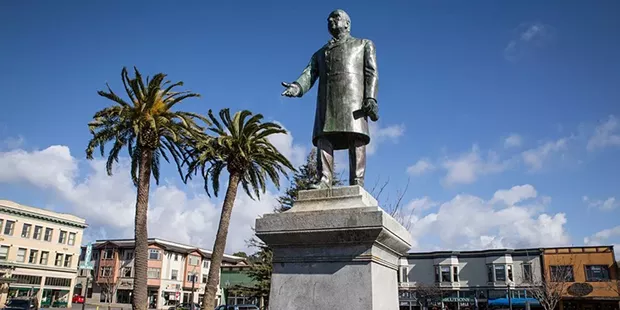 File
The statue of President McKinley.
The Arcata City Council will consider Wednesday whether to move forward with some form of an advisory vote on the future of President William McKinley's statue after voting last month to remove the bronze tribute from the plaza.
With a large crowd expected to turn out for the discussion, city officials decided they were going to need a bigger building and moved the 6 p.m. meeting from city council chambers to the Arcata Community Center.
As we reported in this past week's
print edition
, Councilmember Susan Ornelas dropped the McKinley vote bombshell at the council's March 7 meeting, suggesting that the city poll residents about where the statue should be placed — with the plaza center as one of the options, an apparent backtrack on the council's 4-1 vote a couple of weeks earlier to remove McKinley from the plaza.
According to the staff report, a potential voting process is still in the works, but Humboldt County election officials have indicated the current system only allows for the processing of yes-or-no-vote ballot measures.
An alternative would be to have a "mail-in or staff-supervised election process that required either manual counting of the votes or staffing a computer system to administer the vote," the report states.
That would cost an estimated $6,000 — about $1,000 more than placing the issue on the November ballot — not counting the expense of staff time to count and verify the results, which was still being reviewed.
The agenda also notes that "all input received at the council meeting will be included and assessed as part of the Environmental Review process for the project to remove the statue."
Read past coverage of the issue
here
and
here
.
See related PDF