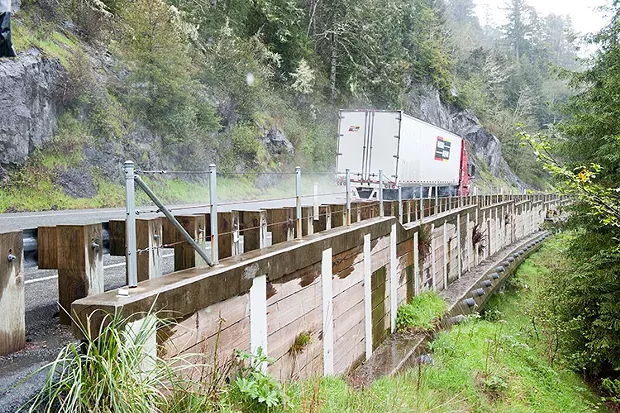 Photo by Mark McKenna
A tractor trailer passes one of the retaining walls on the grade.
The California Transportation Commission is slated this week to earmark an additional $5 million to help pave the way for an alternative to Last Chance Grade.
The new funds will be combined with a previous $5 million allocated by the agency last May to pay for the environmental studies needed to move forward with a workaround to the challenged section of U.S. Highway 101 south of Crescent City, which has been failing for decades.
"Moving the Last Chance Grade off of the coast and constructing an inland route is imperative for the livelihood of Del Norte's economy and the public's safety," McGuire said in a release. "I am excited that after decades of work, we are finally taking steps towards a permanent fix."
There are currently six alternative routes being analyzed, each with their own unique and challenging set of obstacles, ranging from old growth redwoods to complex terrain to sites of cultural significance to local tribes.
The project to move the highway inland comes with an estimated $300 million to $1 billion price tag.
"It's our top priority to find a permanent solution for Last Chance Grade and we are working overtime with Assemblymember Wood, Congressman Huffman and the Del Norte Board of Supervisors to get this job done," McGuire said. "We're grateful for the partnership with Caltrans and the California Transportation Commission who have been instrumental with securing these vital funds."
Find previous
Journal
coverage about Last Chance Grade
here
and
here
.
Read the release from McGuire's office below:
Sacramento, CA – The California Transportation Commission will vote this week to allocate an additional $5 million to advance the environmental report focused on finding a permanent, inland route for the Last Chance Grade – bringing the total secured for this project over the past year to $10 million.
This week's $5 million allocation is in addition to $5 million that was approved last spring for geotechnical evaluations on Last Chance Grade. Senator McGuire, Assemblymember Wood and Congressman Huffman have been fighting for these funds for the past few years.
"This $5 million will ensure the State of California doesn't miss a beat in advancing the environmental document for the Last Chance Grade – it's been far too long, and we are challenging Caltrans to move this critical project as fast as possible," Senator McGuire said. "Moving the Last Chance Grade off of the coast and constructing an inland route is imperative for the livelihood of Del Norte's economy and the public's safety. I am excited that after decades of work, we are finally taking steps towards a permanent fix."
The $10 million total includes geotechnical studies, which will be completed by this fall and seismic studies, which will be completed by the fall of 2019.
Last year, after portions of the highway at Last Chance Grade collapsed, Senator McGuire invited the Secretary of Transportation and the Director of Caltrans to see the damage first-hand. After the visit, the first round of $5 million funding was secured, and Senator McGuire was able to announce the second round of $5 million at last Friday's Economic Summit in Del Norte County.
"It's our top priority to find a permanent solution for Last Chance Grade and we are working overtime with Assemblymember Wood, Congressman Huffman and the Del Norte Board of Supervisors to get this job done. We're grateful for the partnership with Caltrans and the California Transportation Commission who have been instrumental with securing these vital funds."