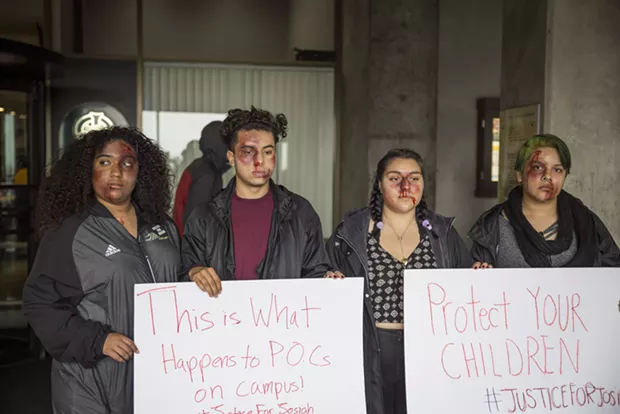 Humboldt State University students held a die-in on campus yesterday during the annual Spring Preview event for prospective students and their families, warning that people of color aren't safe in the local community.
The die-in came as a part of 12 days of organized protests and activities aimed at raising awareness about the April 15, 2017, killing of HSU sophomore David Josiah Lawson, with each day representing a month that Lawson's killing has remained unsolved.
Following a
demonstration
in front of the university administration building Wednesday, about 200 students walked out of class Thursday afternoon to hold a rally on the HSU quad, in which they called on university administrators to do more to push the criminal investigation into Lawson's case forward and take a leading role in ongoing community discussions on race and how students of color are treated locally.
"The fact of the matter is he was a student, he was murdered and it could have been any of us," Barbara Singelton told the crowd through a megaphone.
Submitted
David Josiah Lawson
Friday afternoon, a handful of students got some help from makeup artists in the university theater department to stage a grisly scene. Two laid prone outside a campus dining facility as two others, their faces marred and bleeding, stood nearby with signs, one reading, "This is what happens to (People of Color) on campus!" and the other, "Protect your children!"
Toward the end of the demonstration, a pair of student tour guides led groups of a couple dozen prospective students and parents by. When the groups stopped, the guides were asked what the scene was all about. Both took the time to explain who Lawson was, the story of his killing and the ongoing dialogue that has followed.
Lawson, 19, was stabbed to death at an off-campus party last spring. Kyle Zoellner, a 23-year-old McKinleyville man, was arrested and charged with Lawson's murder but the charges were dismissed a few weeks later, when a Humboldt County Superior Court judge ruled there was insufficient evidence to hold Zoellner to stand trial. He remains the only named suspect in the killing and the investigation is ongoing.
A community reward fund remains set up with more than $40,000 for anyone who provides information leading "directly" to the arrest and conviction of Lawson's killer.
Students and others in the community have been extremely frustrated with the pace of the investigation and that, a year after Lawson's death, no one has been brought to justice in the case. Some have also argued that the case has exposed bias and prejudice in the community, as Zoellner is white and Lawson was black.
Students plan to continue their 12 days of action today, when they plan to attend the Arcata Farmer's Market to give out information and raise awareness of Lawson's case. The group has also set up a Facebook page, which can be found
here
.