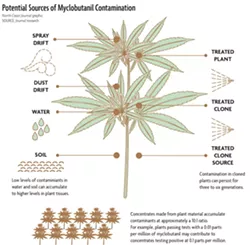 Illustration by Holly Harvey
This first place CNPA award winner for Informational Graphic went with a story on cannabis contamination.
The California News Publishers Association handed out its awards yesterday, of which the
Journal
, finalist for 12 categories, scored nine awards. We are crazy proud of our winning writers and designers, and of every person who makes each issue possible. Hearty thanks go the community of readers who support us.
Awards include:
First Place Coverage of Local Government
for Kim Wear's reporting on the
Magneys
, cited by a judge for its "strong storytelling techniques used in an article that weaves how a county tried to take away the medical decisions for a dying man with the love story of the couple."
First Place Feature Story
for Thad Greenson's
"Rio Dell's Hash Lab Murder Case,"
which the judge noted "has it all ... a neighborhood surprised by drug production ... dire consequences for this community," and the processes and dangers of hash labs "made simple."
First Place In-Depth Reporting
for staff coverage of
David Marcus
, Humboldt County's former public defender. "Breadth of undertaking probably makes this one the clear winner," wrote a judge.
First Place Informational Graphic
for Holly Harvey's
"Potential Sources for Myclobutanil Contamination,"
which illustrates the possible means of contamination of cannabis crops and is very pretty for something so destructive.
First Place Sports Feature Story
for Linda Stansberry's Hoopa Rodeo cover story
"Holding On,"
about which a judge wrote, "The sophisticated, colorful writing perfectly captured a day in the life of a struggling rodeo."
First Place Special Publication
for
Humboldt Insider
's "Engaging writing, interesting stories, nice use of photos and layouts, lots of good local information." (FYI, the new Spring-Summer issue drops this week, so grab one.)
Second Place Columns
award for the satirical
Seriously?
column by Jennifer Fumiko Cahill, a pair of which a judge called "both funny — both scathing."
Third Place Writing
for Jennifer Fumiko Cahill's
"How to Dine Alone,"
about enjoying a table for one like a boss.
Third Place Informational Graphic
for Holly Harvey's breakdown of
"DIY Butane Hash Oil Extraction,"
a highly dangerous process we'd like to stress, once again, you should not try at home. Read the story — that game could kill you.
The
Journal
was also a finalist for Arts and Entertainment Coverage, Front Page Layout and Design and Investigative Reporting for Linda Stansberry's
"Prelude to a Sweep"
and
"Swept,"
about the clearing of homeless encampments from Eureka's marshes.