Mark McKenna
Charmaine Lawson (center) stands with her family at Sunday's memorial for her son.
The Arcata City Council directed staff to look at bringing back a retired FBI agent who recently stepped down from the David Josiah Lawson murder investigation or hiring another expert during Wednesday's meeting after hearing demands for action from a packed room that included the slain 19 year old's mother.
While not taking an official vote, each of the four councilmembers in attendance voiced support for taking additional steps to move the unsolved case forward, either by bringing in outside assistance or providing additional resources.
"I think, that if not Tom Parker, maybe some alternative assistance that is sophisticated beyond what the city has," Councilmember Paul Pinto said. "I'd be interested in that."
Councilmember Michael Winkler said he "would like to see substantially increased resources" for the investigation." "This is obviously very serious, and our department hasn't been able to solve it."
Similar thoughts were echoed by Councilmember Brett Watson and Mayor Sofia Pereira, with Watson saying he wanted to explore the city's options and "if it's not Mr. Parker, what else we have at our disposal."
"Needless to say, I support that as well," Pereira said.
But several in the crowd made it clear they didn't believe the council was going far enough, calling out of turn for Parker to be brought back as Pereira repeatedly asked for decorum. She would eventual adjourn the meeting without taking up any regularly scheduled agenda items due to repeated disruptions.
Earlier on, Charmaine Lawson had pleaded for the council to bring back Parker, who joined the Arcata Police Department's investigation in her son's fatal stabbing about four months after the 19 year old died in the early morning hours of April 15, 2017.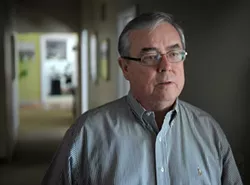 Paul Wellman/The Independent
Tom Parker
Parker stepped down last week, saying he could no longer work with an agency that was lying to him and withholding information. The council acknowledged that in a recent release, saying the city took "steps to protect the integrity of the case," alleging Parker had violated a non-disclosure agreement, which he denies.
One of Parker's demand to stay on had been to bring on his own investigative team, which he said could solve the case in a few months, if not weeks. See previous coverage
here
,
here
and
here
.
"Let's give him eight weeks and if it's a money thing, I will sell my house and I will go live in a one bedroom apartment," Charmaine Lawson tearfully implored the council during public comment. "I will sell my house to pay for that investigative team because that is my son and I need to know what happened to my child."
After the council discussion, Charmaine Lawson again made her request that the city bring back Parker, saying he was familiar with the case and anyone else would have to start from the beginning.
"I would like for Tom Parker to stay on the case," she said, after brushing aside council attempts to stem her comments from the audience. "That is what I'm demanding. This is my child."
Parker, a Santa Barbara resident who has acted as an expert witness since his retirement from the FBI, primarily in homicide cases, has excoriated the APD's handling of the Lawson investigation in recent days, saying the case can and should be solved.
His resignation on April 9 was followed less than 24-hours later by that of then Police Chief Tom Chapman, whom Parker has pointed to as a major factor in why the case languished in the aftermath of a May 2017 preliminary hearing that saw charges dismissed against the only named suspect in the case.
Reach by phone today, Parker said that, on the advice of his attorney, he could not comment further at this time after receiving a cease and desist letter from the city, but added "I do stand by what I've said in the past."
City Manager Karen Diemer reported Wednesday that Lt. Bart Silvers is currently acting chief and the recruitment for an interim chief is ongoing while the city prepares to conduct a nationwide search for a permanent replacement.
Diemer said she anticipates there will be opportunities for the public to weigh in on the "qualities we're looking for in a chief."
"I think we have a pretty idea, especially over the course of the last year, some of the very critical skills that are needed for a chief coming into Arcata right now," Diemer said.