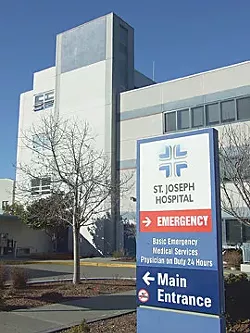 FIle
St. Joseph Hospital.
The company that owns Redwood Urgent Care has filed a federal lawsuit against St. Joseph Hospital, alleging pervasive and systemic violations of state and federal laws designed to protect fair business competition.
Wahidullah Medical Corp., which owns Redwood Urgent Care and its outpatient medical testing laboratory, filed the anti-trust suit earlier this month, seeking a preliminary injunction, jury trial and unspecified damages. The suit — filed by a heavyweight anti-trust lawyer — alleges that St. Joseph Hospital has illegally conspired to stifle competition for outpatient medical lab testing in the Eureka market by misleading consumers, making its electronic medical records system incompatible with that of Redwood Urgent Care and actively defaming its competition in order to maintain up to 10-fold markups on services.
St. Joseph Hospital spokesperson Christian Hill declined to discuss the lawsuit, saying the hospital is "unable to comment on active litigation." The hospital is expected to file a reply to the complaint in federal court in the coming weeks.
Wahidullah opened Redwood Urgent Care in 2014 after St. Joseph closed its urgent care facility, leaving the hospital's emergency room as the only option for patients with urgent but non-life-threatening ailments — an option that came with what the lawsuit calls "prohibitively expensive" costs for patients. Wahidullah opened its urgent care facility in 2014 in January of 2017 opened a fully-accredited, out-patient medical testing lab, looking to bring competition for those services and allegedly "laying bare" the extent to which "St. Joseph Health's lab services were overcharging its captive customer base."
"For instance, some routine tests were nearly 10 times more expensive at St. Joseph Health's lab services compared to those same tests at Redwood Lab," the suit alleges, noting that St. Joseph was charging a patient without insurance coverage $327 for a vitamin D test compared to $36 at Redwood for the same test. (The suit alleges comprehensive metabolic panel and complete blood count tests were similarly eight to 10 times more expensive at St. Joseph.)
The suit alleges that patients and medical staff were "confident" in Redwood's laboratory work.
"Unfortunately, St. Joseph Health, having already seen its lucrative emergency room business undercut by Redwood's urgent-care facility, decided to protect its lab-testing business from fair competition by resorting to tortious and anticompetitive behavior designed to put Redwood Lab out of business and thereby leave consumers of out-patient medical laboratory testing services in Eureka with no option by St. Joseph Health."
Specifically, Redwood alleges that St. Joseph Health's doctors and medical staff have systematically neglected to inform patients that Redwood's testing lab is an option and disparaged it to patients when it has come up, routinely informing patients it's the "wrong" lab while St. Joseph's is the "right" one.
Additionally, Redwood alleges that St. Joseph has manipulated its electronic medical file management system to make it incompatible with that of Redwood. This effectively forces patients carry paper copies of lab results and test orders between their providers.
"St. Joseph Health Defendants derive financial benefit by steering the ancillary medical spending of their patients to St. Joseph Health, so that overall corporate revenues (and therefore individual compensation) are increased when outpatient medical lab testing is performed by St. Joseph Health," the suit alleges, adding that more than 90 percent of medical practices in Eureka are currently owned by St. Joseph Health. "This is consistent with St. Joseph Health's strategy to dominate the market for healthcare services in Eureka, as demonstrated by its ongoing accumulation of formerly independent medical practice groups such as Humboldt Medical Specialists."
The suit alleges seven specific violations of state and federal anti-trust laws. In addition to unspecified damages and legal fees, it seeks a court injunction that would bar St. Joseph Health from attempting in any way to restrain trade in or monopolize the local out-patient laboratory testing industry.
Representing Redwood in the case is San Francisco attorney
Francis Scarpulla
, whom the legal publication
Law 360
once dubbed a "titan of the plaintiffs bar" and who has extensive history in anti-trust litigation, including a class-action price-fixing case against large tech companies producing LCD screens that resulted in a $1.1 billion settlement. Additionally, Scarpulla has taught anti-trust law courses at the University of California Hastings School of Law, the University of San Francisco and Golden Gate University Law School.
Read Redwood's full complaint
here
.