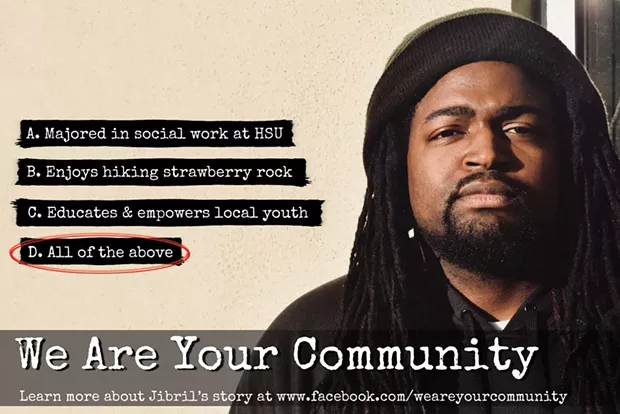 The Arcata Plaza will look a bit different for tomorrow's farmers market.
Diversity Day, the culminating event of the We Are Your Community project, will take over the plaza's southwest corner with the aim of raising awareness about the diversity of people living on the North Coast.
Erin Youngblood-Smith and Amy Mathieson, a pair of Humboldt State University masters in social work students, launched the project with the aim of bridging the gap between the local community and students of color. Through an outreach and marketing campaign, the project seeks to help people in Humboldt County, which is 84 percent white according to the U.S. Census, better understand the experiences of students of color on and off campus. (Read more about the project
here
and check out its Facebook page
here
.)
Diversity Day will see a variety of local organizations — including the
North Coast Journal
— tabling on the plaza during farmers market to engage with the community on the subject of diversity, hand out information and discuss the issues and experiences affecting people of color in Humboldt County. The event — which runs from 9 a.m. to 2 p.m. — will also feature cultural demonstrations, a kids area with face painting and other activities, and a raffle.
Speaking for the
Journal
, co-editors Jennifer Fumiko Cahill and Thadeus Greenson will be on hand, ready to answer questions about what we do, gather feedback and take suggestions, particularly as they relate to covering diversity on the North Coast. We hope to see you there.