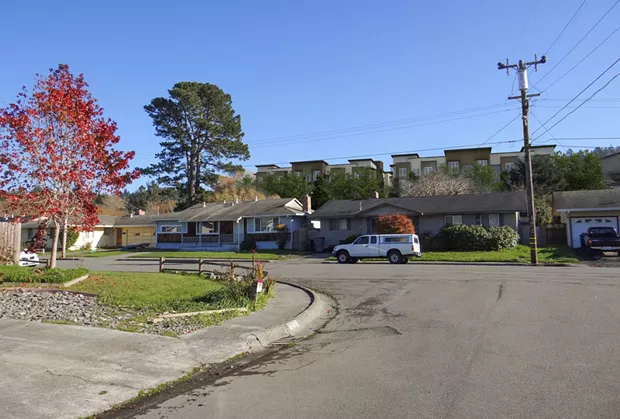 City of Arcata
Conceptual photo illustration of how The Village project would look from the perspective of the Westwood neighborhood.
A controversial large-scale student housing project will go before the Arcata City Council in June without a planning commission stamp of approval after commissioners split 2-2 last week on whether to recommend general plan and zoning amendments needed for the proposed development.
By the May 8 commission meeting, The Village plan — comprising a three- and four-story complex with 200 units for some 700 Humboldt State University students — had become a regular and contentious agenda item, appearing five times just since the end of February.
The project is slated to go before the council June 6.
Leading the charge against The Village is a nonprofit group called Arcata Citizens for Responsible Housing, with more than 250 members, which has submitted an alternative plan for the 10-acre Craftsman's Mall site, which sits across U.S. Highway 101 from LK Wood Boulevard north of campus. Read previous coverage
here
.
"Arcata and Humboldt State are inextricably linked," John Bergenske, one of ACRH's directors, said in a release. "Many longtime residents came here to go to HSU, and stayed for the diverse, inclusive environment, where students, families and seniors all live near each other, interacting and mingling. Arcata has grown from interactions with students and vice-versa. We want housing that values and builds on our inclusive and integrated college-town community, not projects that will destroy it."
The proposal for the privately owned, off-campus dorm is being made by AMCAL — a real estate development company that has built similar projects in other college towns, including one in Monterey that was later purchased by Cal State Monterey Bay.
Patrick Shanahan, senior project manager for The Village, said in an email that he believes the commission would have recommended the amendments had a fifth member not been absent, leading to the tie vote. (A sixth commissioner recused herself because she works for Greenway Partners, which created ACRH's conceptual plan.)
"Arcata deserves a high quality, professionally managed student housing community not only to help alleviate the massive housing shortage that exists, but also to support the economic future of Arcata and Humboldt State University," he wrote. "HSU students deserve better than the housing currently being offered. We look forward to presenting these plans and benefits to the city council."