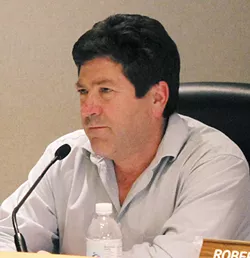 File
Kevin McKenny
Humboldt County Planning Commissioner Kevin McKenny has resigned his post after revelations that he has been cited for violating state and federal environmental laws, according to reports in the
Lost Coast Outpost
and the
Times-Standard
.
The alleged violations took place on a property McKenny owns in Eureka and he conceded in an interview with the
Lost Coast Outpost
that he "made a mistake."
Humboldt County Fourth District Supervisor Virginia Bass, who
controversially appointed
McKenny to the commission in 2014 amid an outcry over the
long-dilapidated
Downtowner Motel McKenney owned in Eureka, announced the commissioner's resignation yesterday. (Months after his appointment, McKenny sold the property to Danco and it has since been
rebuilt
into a senior housing project called The Lodge.)
After the
Lost Coast Outpost
first reported
on the allegations last month, a number of local environmental groups
have called
for his resignation.
For more on the alleged environmental violations and McKenney's resignation in the
Times-Standard
and
Lost Coast Outpost
.