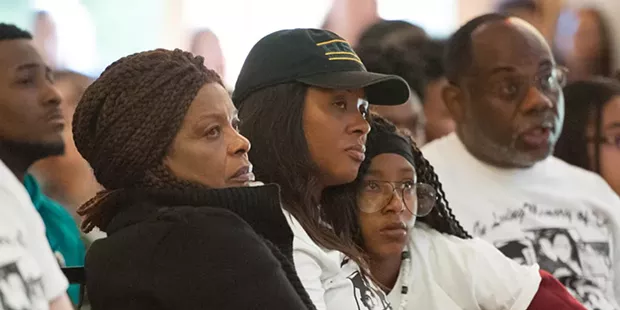 File photo
Josiah Lawson's mother, Charmaine, and grandmother listen to a speaker at her son's 2017 memorial service.
The city of Arcata's Community Dialogue on Race series, which began after the fatal stabbing of Humboldt State University student Josiah Lawson last year, continues tonight with his mother expected to call for the reinstatement of an outside investigator brought on to help solve the case.
According to a release from the family, Charmaine Lawson, who has filed
a claim seeking at least $500,000 from the city of Arcata
, has asked City Manager Karen Diemer to attend.
Submitted
David Josiah Lawson
"After tolerating over a year of the city's inaction, I no longer trust that Arcata and Humboldt public officials care enough about my son and my family to work on my son's case with the level of urgency it deserves," Charmaine Lawson states. "Investigator Tom Parker has extensive experience in these kinds of cases and stated that he could find my son's murderer in just a few weeks."
Back in April, the Arcata City Council
directed staff to look at that possibility
and other steps for moving the case that has laid bare racially tensions in the college town toward closure.
Parker, a retired FBI agent,
has been highly critical
of the Arcata Police Department's handling of the case, saying he resigned in April because he could not work with an agency that he believes was withholding information and ignoring his recommendations.
Diemer
has previously acknowledged
that a level of distrust had developed in the APD because investigators believed Parker had violated a nondisclosure agreement and requested investigative steps that APD members didn't believe were viable.
Parker's April 9 resignation was followed less than 24 hours later by that of then
Police Chief Tom Chapman
, whom Parker has pointed to as a major factor in why the case has languished.
The community meeting starts at 5:30 p.m. in the D Street Community Center 1399 D St., in Arcata.